Early Morning Magic at Toy Story Land Review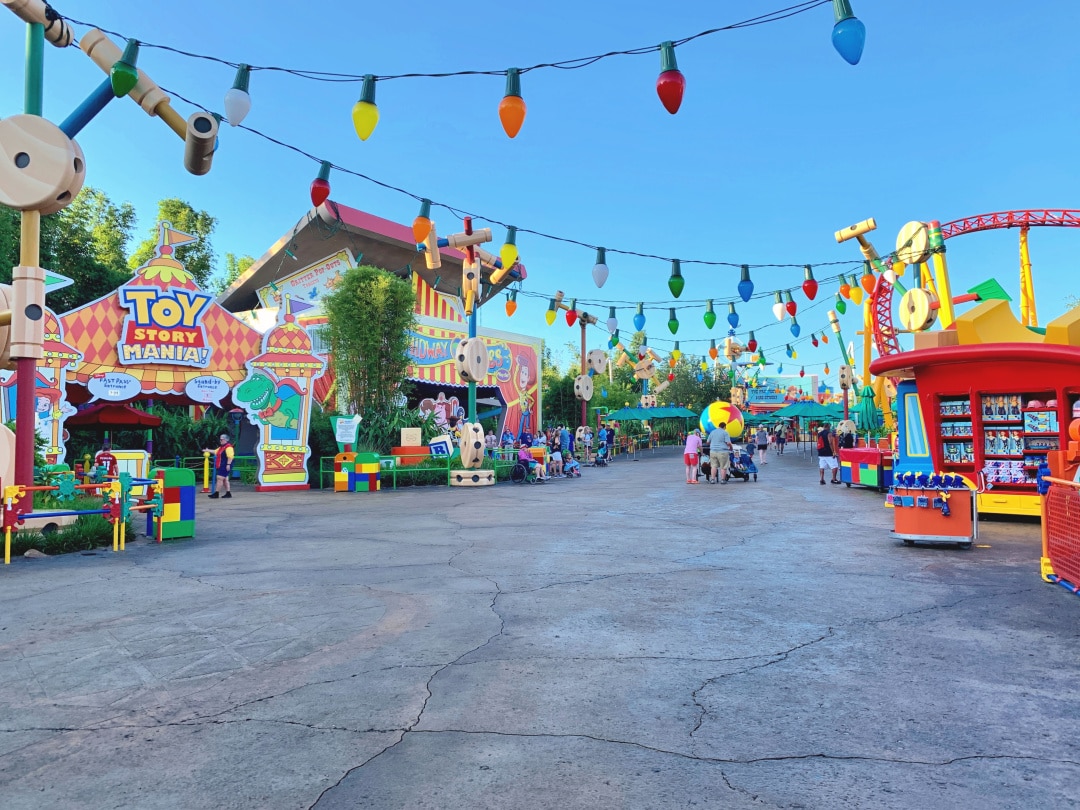 Is Early Morning Magic at Toy Story Land worth it? I attended this event recently and can't wait to share what I thought. Read on for pricing, timing and whether or not I think this is a good deal in this Early Morning Magic at Toy Story Land review.
Years ago I was invited to experience the Early Morning Magic event at Magic Kingdom. I enjoyed it but I wasn't sure if I would pay the money to bring my family back.
Since then, the original Magic Kingdom event has expanded and another Early Morning Magic at Toy Story Land was added at Disney's Hollywood Studios.
On a recent trip, I decided to grab a ticket for this special event and tell you all about it in my review of Early Morning Magic at Toy Story Land.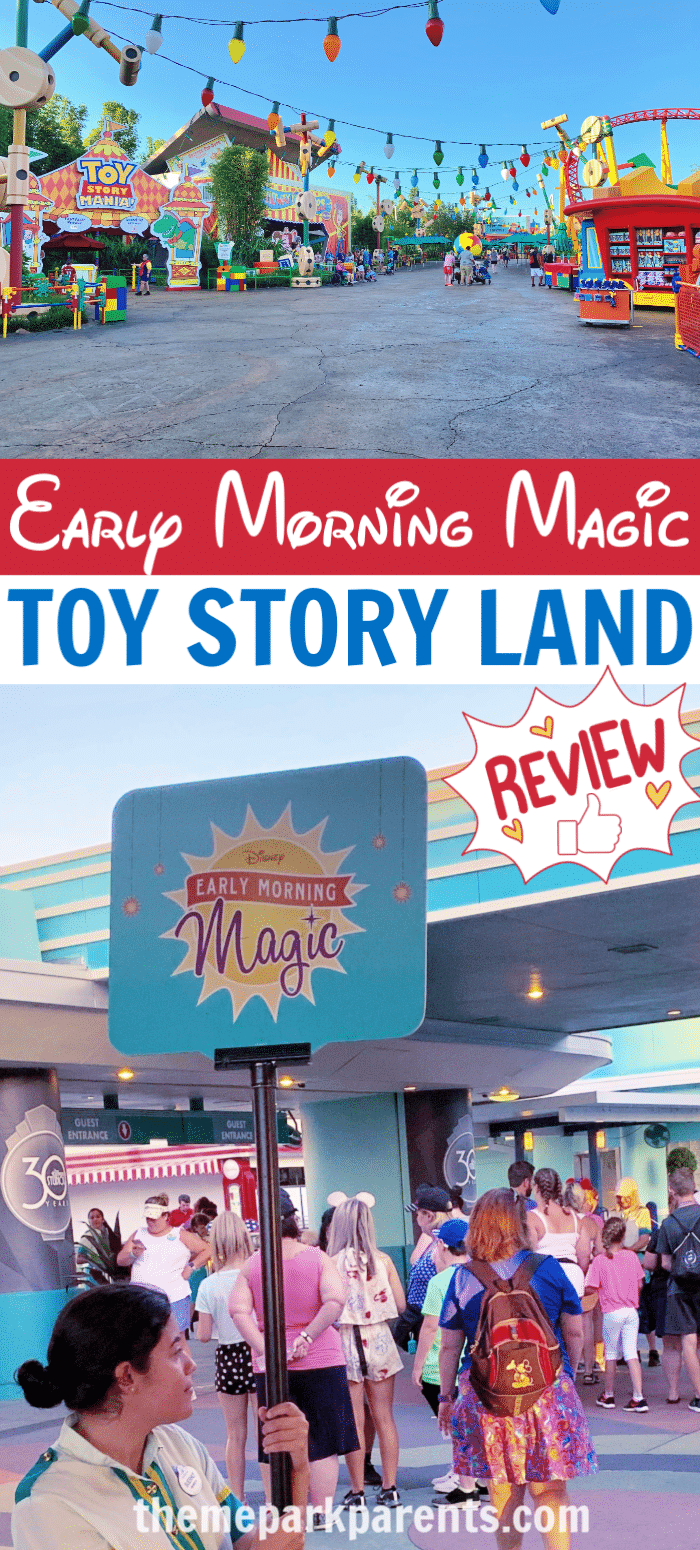 What is Early Morning Magic at Toy Story Land?
As made clear by the title, this event takes place early in the morning before the park opens. Our event was from 7am-10am and included breakfast and early access to Toy Story Land.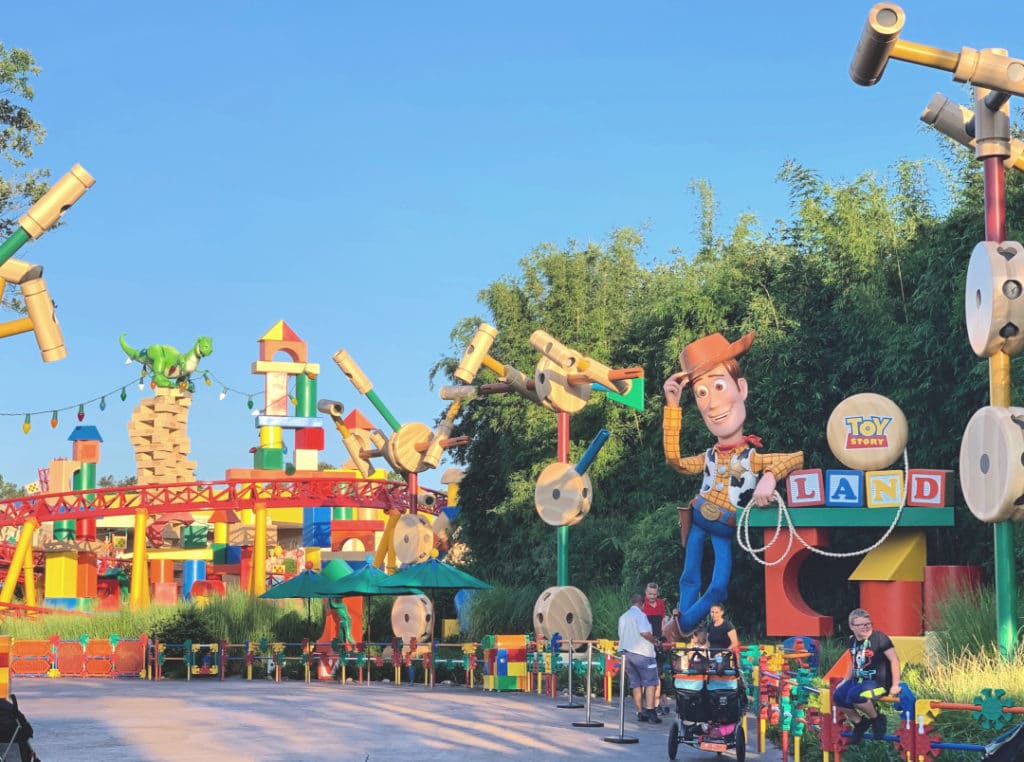 In order to attend one of these special events currently offered only on Monday, Wednesdays, or Fridays, you will need regular park admission and an additional special event ticket for each person in your group.
When you enter Disney's Hollywood Studios, a Cast Member will check your reservation and give you a wristband.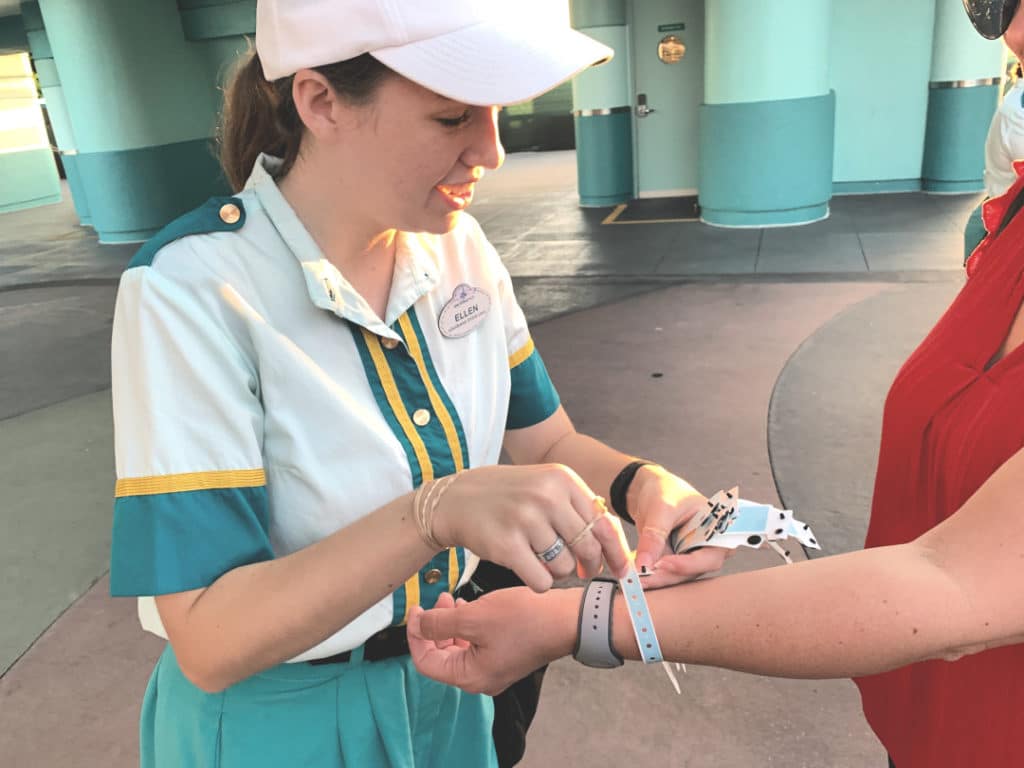 Access includes all-you-can-eat breakfast at Backlot Express and early admission to Toy Story Land where you can meet characters and ride all three attractions (Toy Story Mania, Alien Swirling Saucers, and Slinky Dog Dash) with little to no wait.
You'll want to be on time so you don't miss out on the benefits of an empty park because you'll want to enjoy these fun attractions over and over.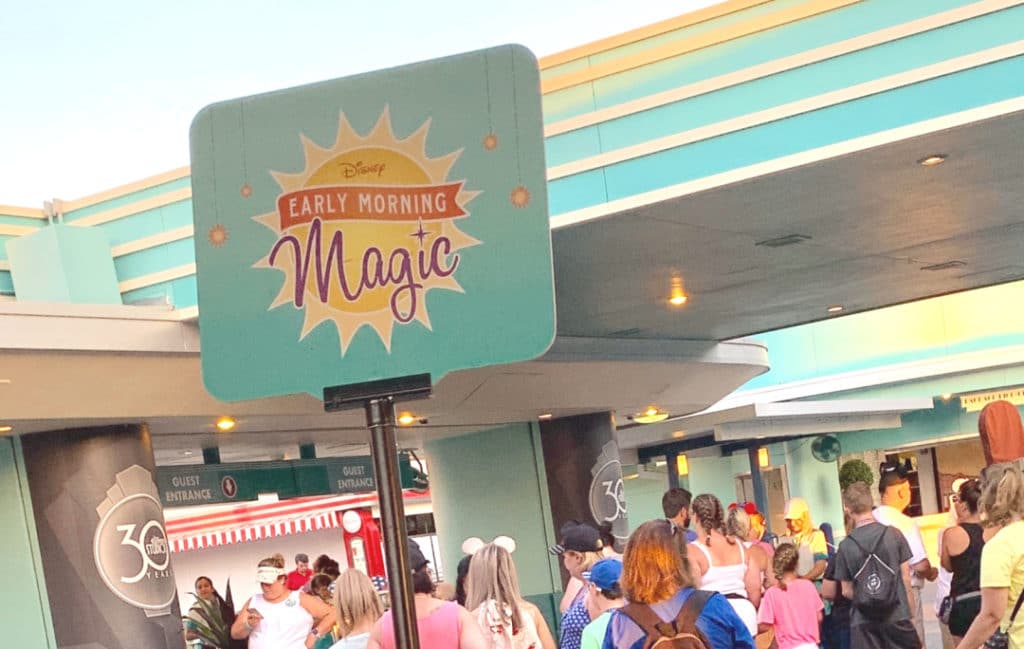 Early Morning Magic Breakfast at Backlot Express
Cast Members will direct you straight to breakfast, which for us was at Backlot Express. That said, you don't have to eat first if you don't want to.
Breakfast will be available to event guests until 10am, which is well after the park opens. And if you do want to eat first, you can still pop back in for another snack or drink refill.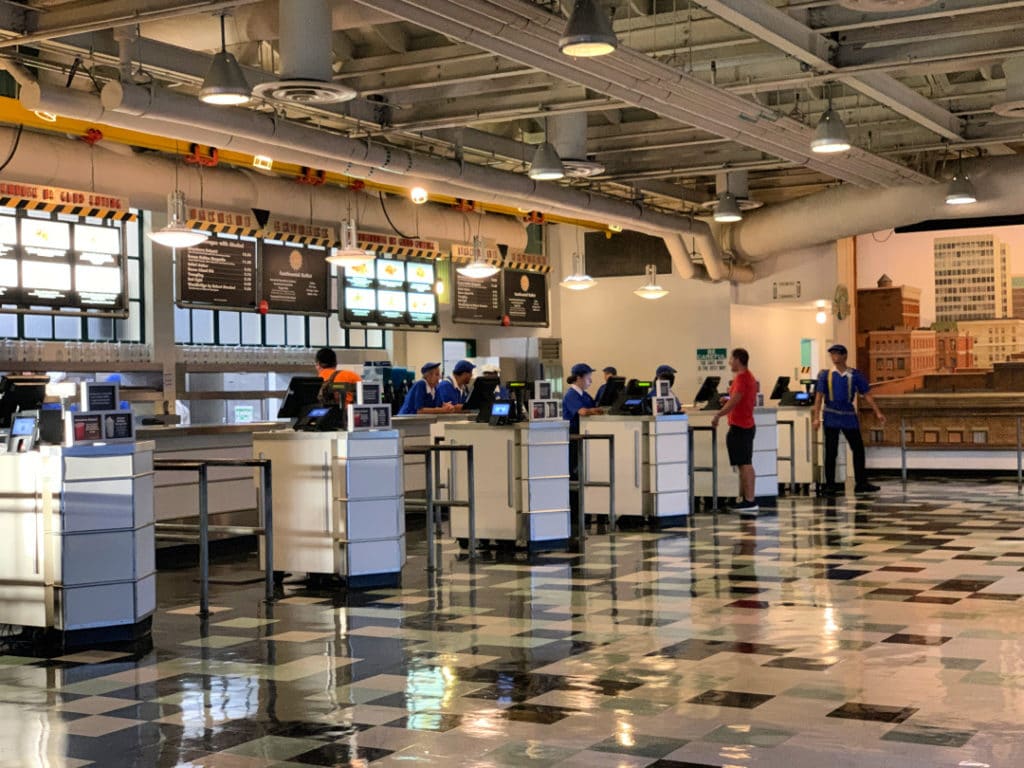 Unlike my prior buffet experience at Magic Kingdom, the Toy Story Land event has a set menu where you can order whatever you want (and more than one if you want) along with a pastry and fruit buffet.
There is open seating indoors and outdoors wherever you want to sit. You'll love having your pick of tables with such low crowds.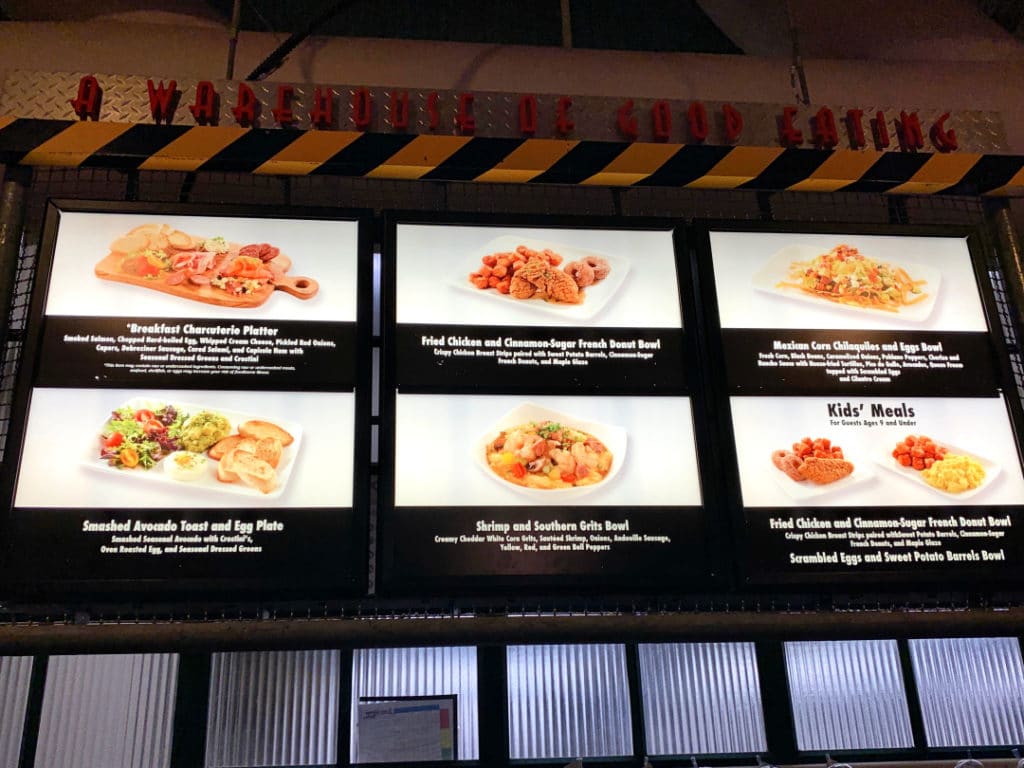 Cereal and fruit is available on the buffet along with pastries, juice, coffee and soft drinks. I decided to skip the buffet this time around and focus on the menu items.
You can see a sample of the offerings below.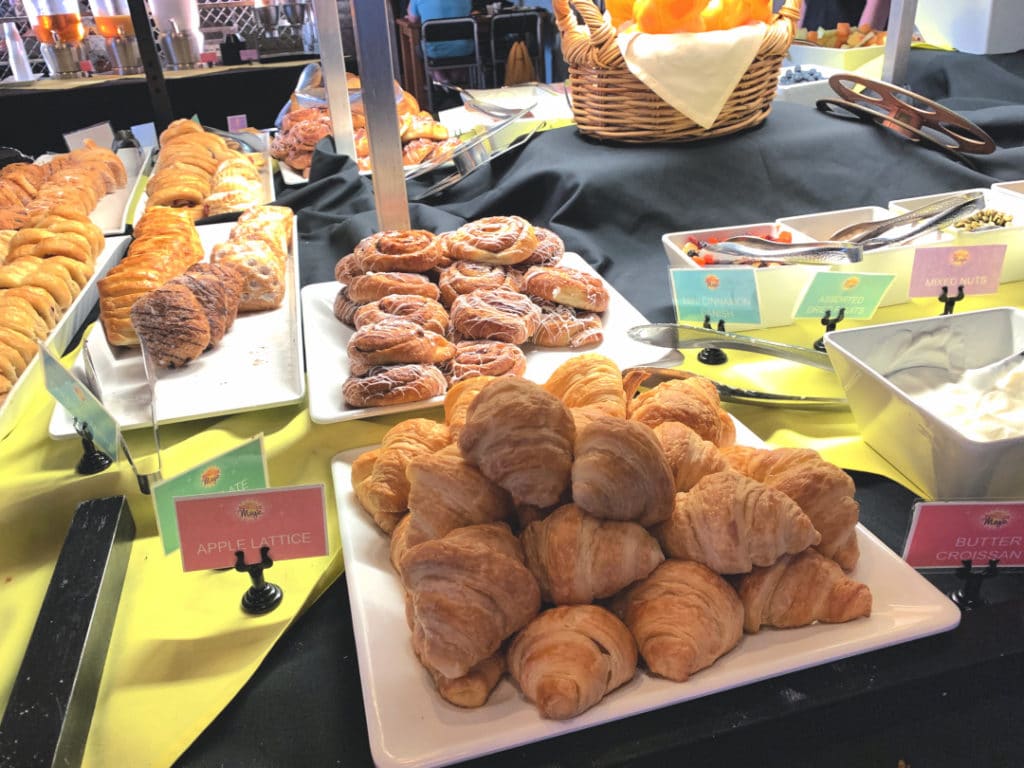 We decided to try the Smashed Avocado Toast and Egg Plate, Fried Chicken and Cinnamon Sugar French Donut Bowl, and the Mexican Corn Chilaquiles and Eggs Bowl.
Despite my propensity for all things avocado, the first plate was my least favorite of the three.
It didn't taste awful but the avocado was more like guacamole and the toasts were dry. I also didn't love the idea of a salad at 7am but that's just me.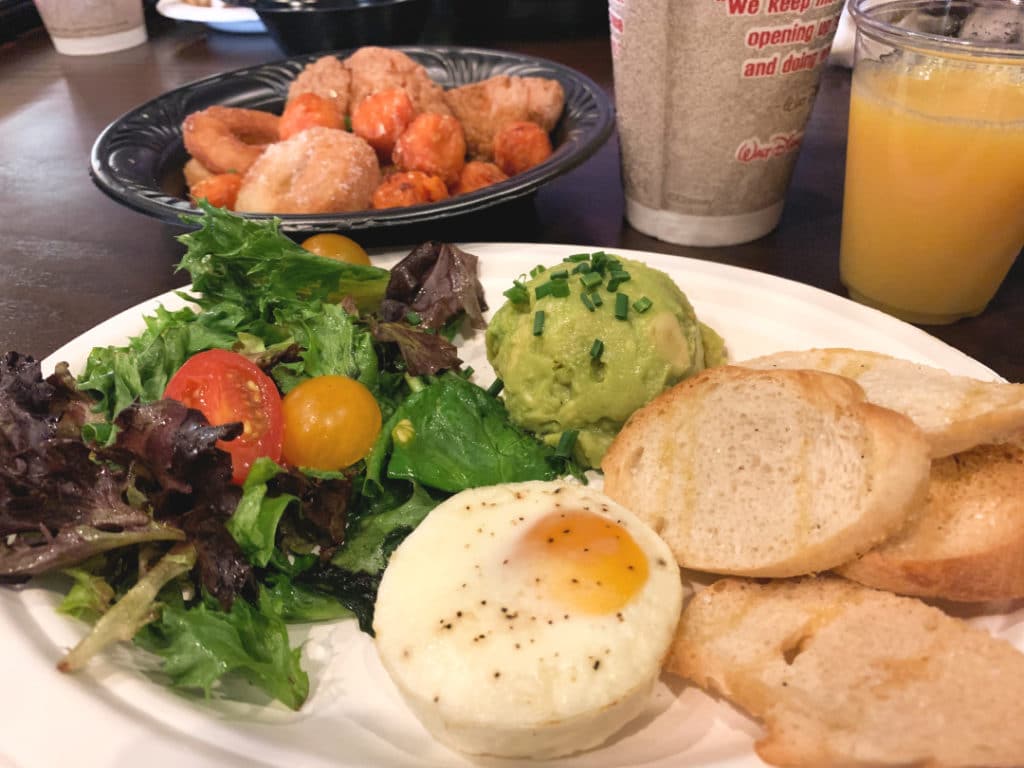 I wasn't going to try the chicken and donuts until I realized they are actually mini croissant donuts like the ones they serve in Epcot.
If you have never had one, believe me when I say they are delicious! These were warm and delightful and the chicken was tasty.
I also really loved the sweet potato tots, which were a nice surprise. My kids would love this one.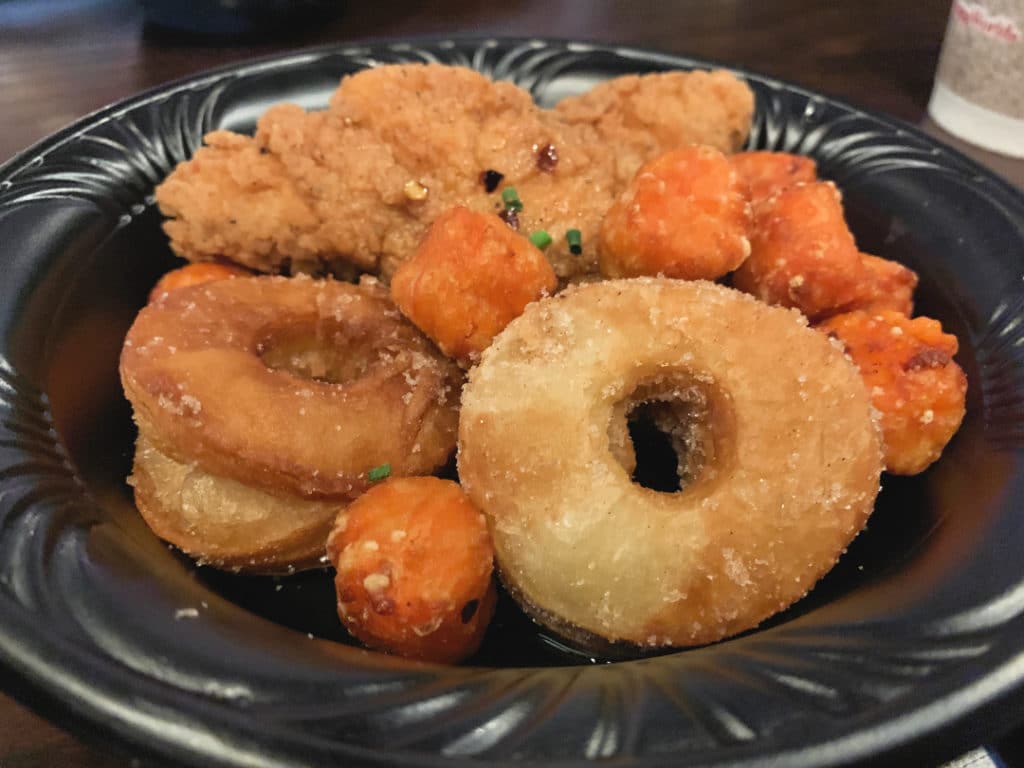 After tasting the first two, I was pretty full but I had to go back for the Mexican Corn Chilaquiles and Eggs Bowl and I'm so glad I did. I did it for you. You're welcome.
This dish was far and away better than the other two and I wished I had started with it! The flavor and texture were delicious and not overcooked at all.
I loved the crunch of the tortilla strips and the cilantro creme topped it all off perfectly.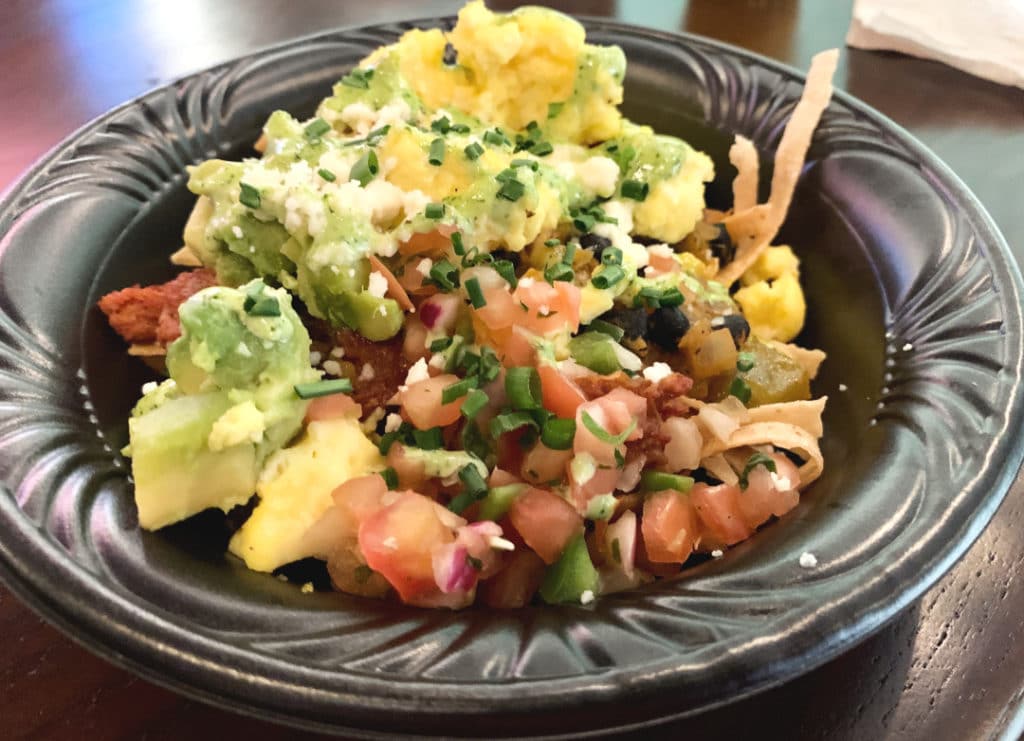 Enjoy a Nearly Empty Toy Story Land
Of course, the best part of Early Morning Magic is an empty Toy Story Land! If you love taking pictures like me, you'll love getting in before everyone else.
Taking a road trip to Toy Story Land? Grab these free Toy Story 4 Coloring Pages and activities before you go!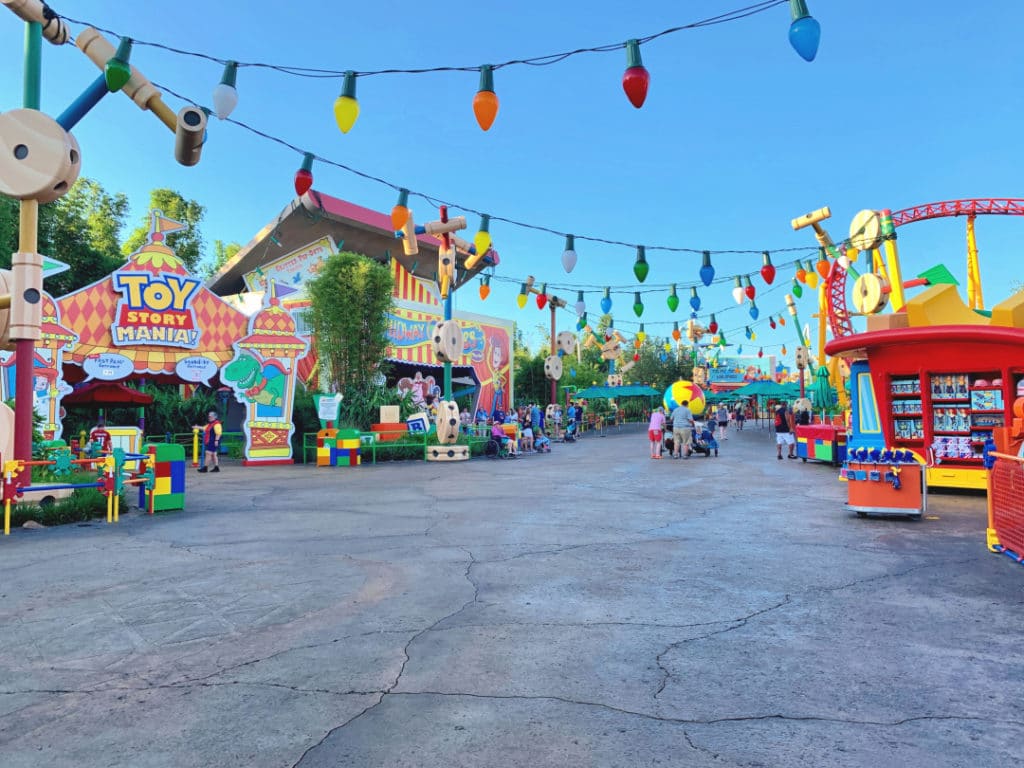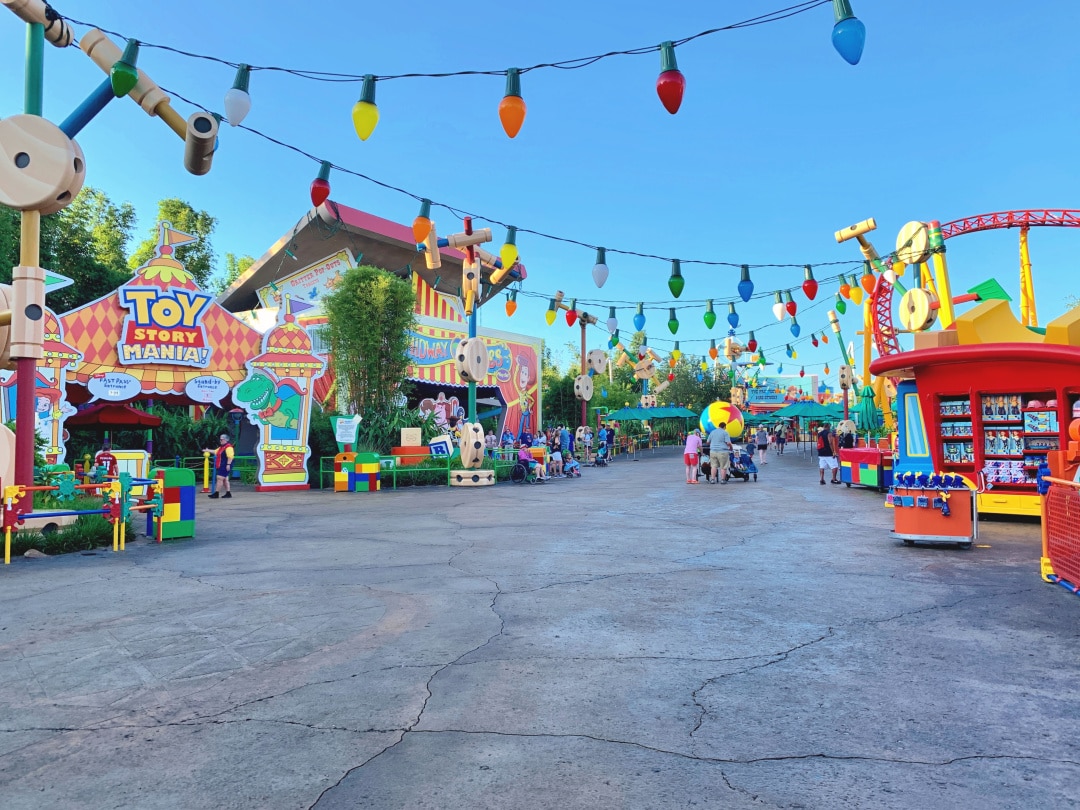 There are characters out bright and early for photo ops and all three attractions were open as early as 7:30am. We opted to start with Alien Swirling Saucers since we had just eaten and we walked right on.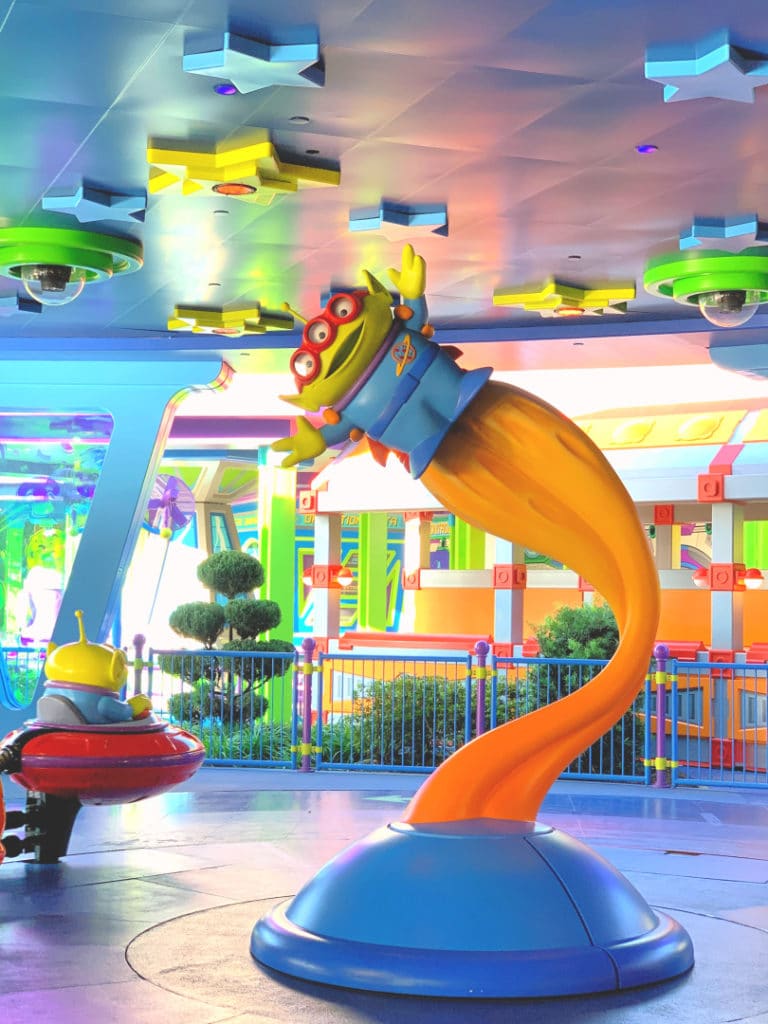 Toy Story Mania was also a less than five minute wait and let me tell you, that air conditioning was just as welcome at 8am as it is later in the day.
As for Slinky Dog Dash, wait times ranged from 20-30 minutes, which is well below the lowest wait during normal operating hours. I don't think we ever waited more than 20 minutes and we rode it three times.
Check out my video below to see what the line looked like as we were leaving and you'll see why this event is so popular!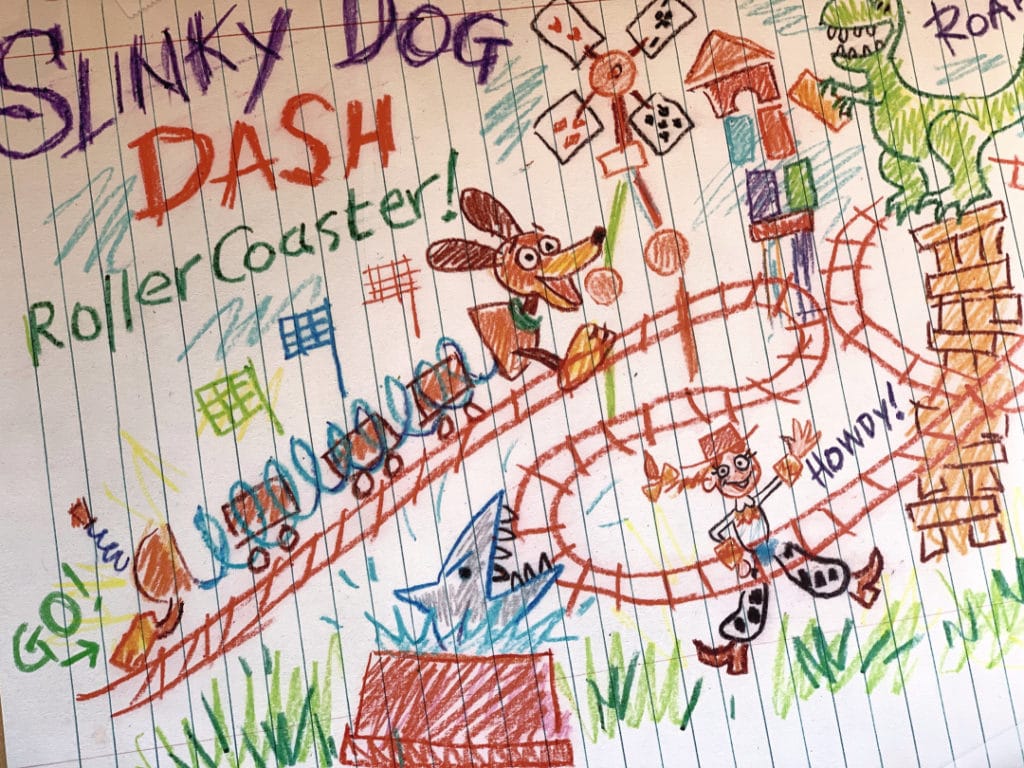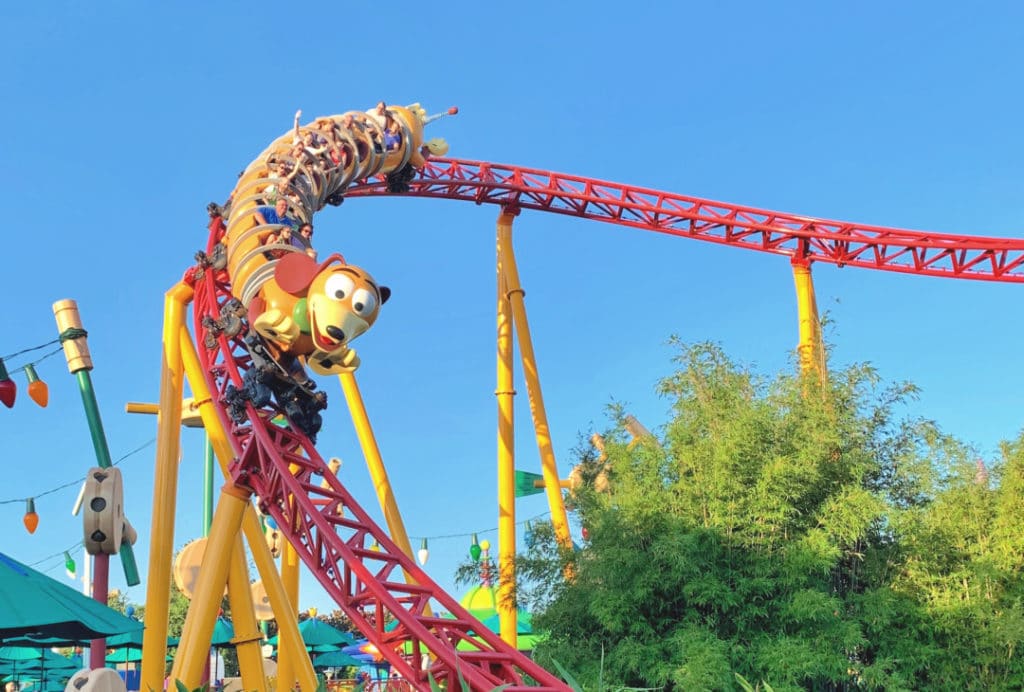 Is Toy Story Land Early Morning Magic Worth the Price?
The current (7/2019) price for the Early Morning Magic event is $79/adult (age 10+) and $69 for children under 10. This is an additional cost above the price of your admission so you will need to factor that in to see if it fits within your budget.
For many, an event like this won't be a great value, but when I compared it to other special events or character meals, I found it to be pretty reasonable. Here's why.
All-you-can-eat breakfast is included and is open until 10am. This means you could grab coffee on your way to enjoy Toy Story Land and eat after the area opens to general day guests.
If you're thinking about your budget, this late brunch could save you a meal later in the day if you also eat dinner early.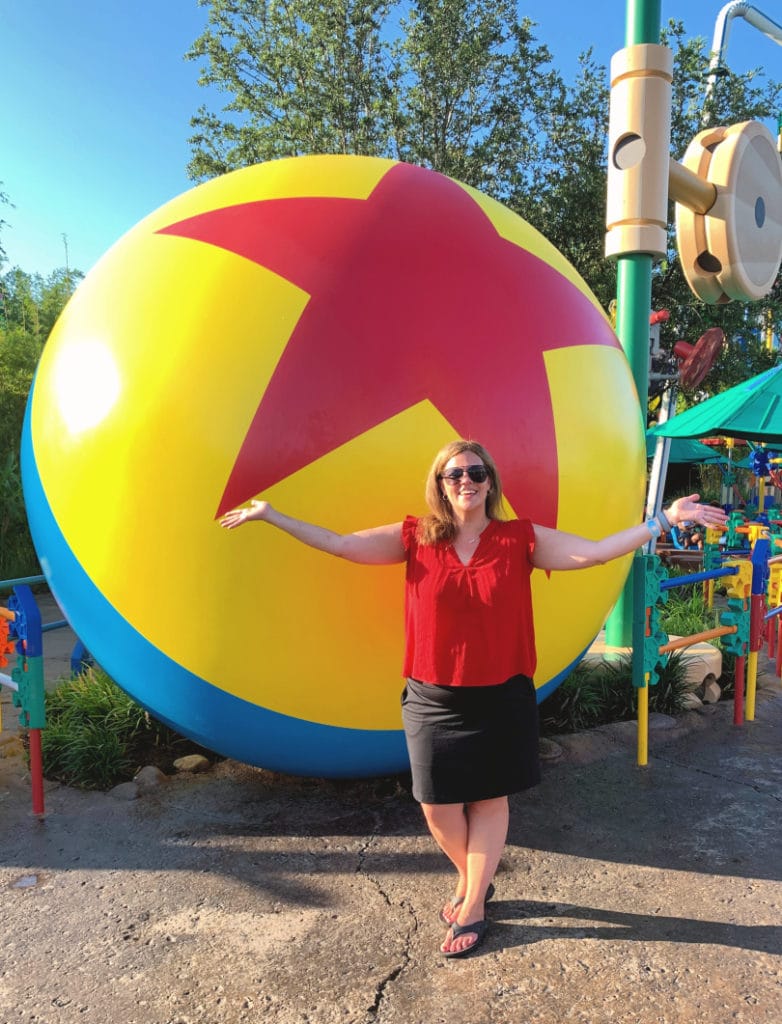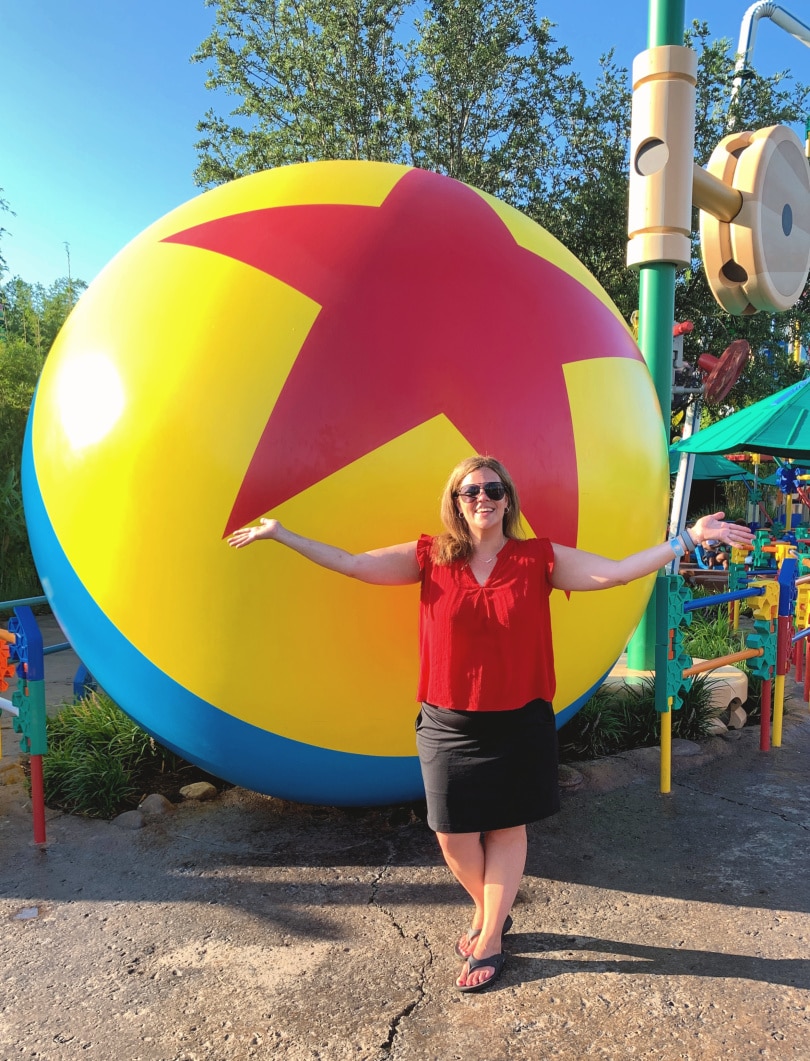 Only Early Morning Magic guests will have access to the attractions and characters from around 7am to just before 9am when they start letting general day guests into the land.
We opted to eat breakfast at 7am and even with that, we were able to enjoy a spin on Alien Swirling Saucers, Toy Story Mania, plenty of photo ops and three rides on Slinky Dog Dash before the crowds were allowed in.
We left Toy Story Land around 9:30am to enjoy the rest of our day in the parks.
If you have early risers and plan to pay cash for a character meal, I recommend considering Early Morning Magic at Toy Story Land instead. The food is just as good and the experiences are far better for a marginally higher price tag.
That said, if you have the dining plan, it won't be the same comparison since you can't use credits to pay for Early Morning Magic. But if you have the budget and lots of Toy Story fans in your group, it may still be worth it to you.
Let me know what you think of Early Morning Magic. Have you done an event like this?
Toy Story Land Planning Ideas
Want more Toy Story Land tips and ideas? Check out these posts.