New Disney's Coronado Springs Resort Rooms and Gran Destino Tower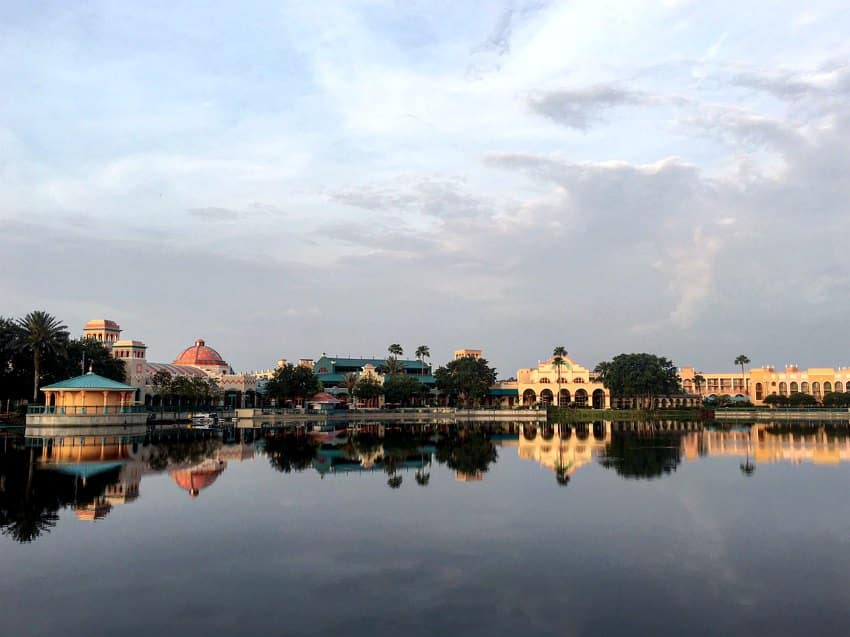 Disney's Coronado Springs Resort rooms are getting a makeover and I have the inside look! I love this resort and can't wait to tell you all about it. I know the improvements are only going to make it better!
Whenever I have the chance to visit Walt Disney World, I try to stay in a a different resort. My family has stayed in all three levels Disney uses to categorize their properties (value, moderate and deluxe) and there is something to love about all of them.
Our latest visit was to Disney Coronado Springs Resort and while I had been there before, it was a first for everyone else. It was a quick trip but we all loved it! With the new Gran Destino Tower nearing completion, this resort is only going to get better.
If you're looking for the NEW Gran Destino Tower rooms, be sure to read to the end for a full tour!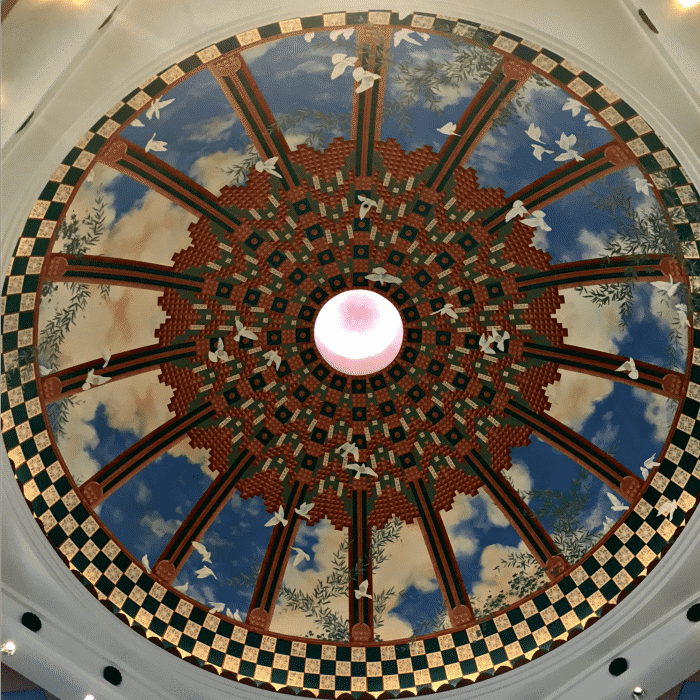 About Coronado Springs Resort
This is a moderate-level resort, with tons of space, yummy restaurants and a convention center so prepare to do a little walking. Our room was in the Cabanas section, which is my favorite because of its proximity to both the main pool and the lobby/dining area.
Dining options include Rix Sports Bar and Grill, Pepper Market (which is a family fave!) and Maya Grill among others.
There are three distinct areas around the resort lake (Lago Dorado) called Casitas, Ranchos, and Cabanas. They all look different on the outside but the rooms are the same. If you have your own vehicle, it may not matter which room you are in because there is parking near each building. But if you are looking to be in a centralized location, we were really happy with the Cabanas.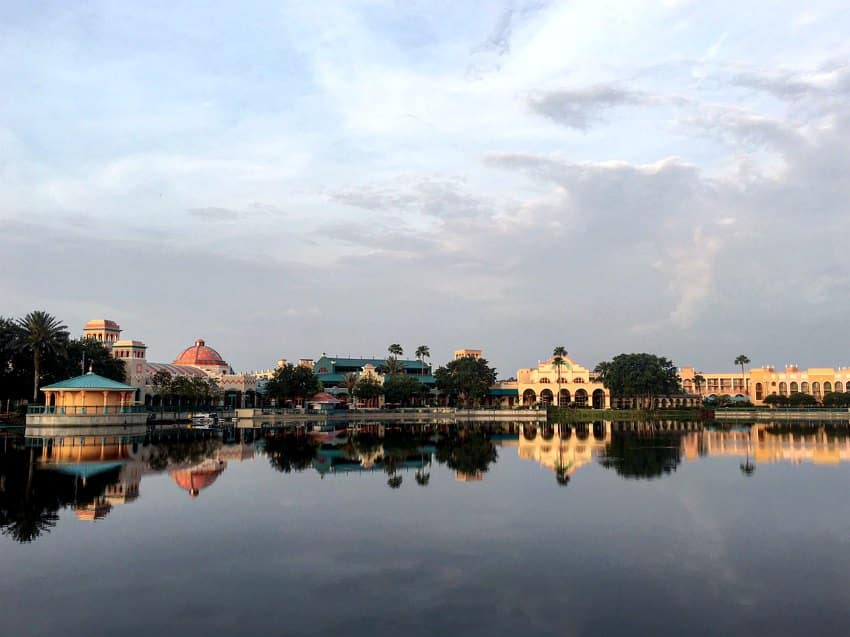 A note about buses
There is an internal bus system that has 4 stops, the last of which is the Cabanas stop. We loved it because we went straight to the park from our stop without having to circle the resort. Of course this means we were the last stop when it was time for drop-off but it wasn't an issue since we were already sitting in the a/c.
Of course, during the busy seasons, being the last stop could put Cabanas at a disadvantage due to crowds. But we were there over Memorial Day and really didn't have any issues finding space on the bus. The main stop off the lobby is about a 5 minute walk from the Cabanas though, so you could head that way if you really wanted to be first on.
Let's take a walk around Coronado Springs Resort
Moderate resorts at Walt Disney World have a reputation for being really spread out. Most of the buildings are 2-3 stories tall as opposed to the towers in deluxe properties. You may have heard that there is currently a tower being built at Coronado Springs so it will soon have the best of both worlds. However, while that will definitely add more rooms, there is still plenty of space to explore.
What I love about this resort compared to others like Disney's Port Orleans Resort – Riverside, is that while there are plenty of trees, they are more on the perimeter instead of every few steps. I love water and wide open spaces so being able to see the landscape stretch out before me is always a huge plus. Points for Coronado Springs!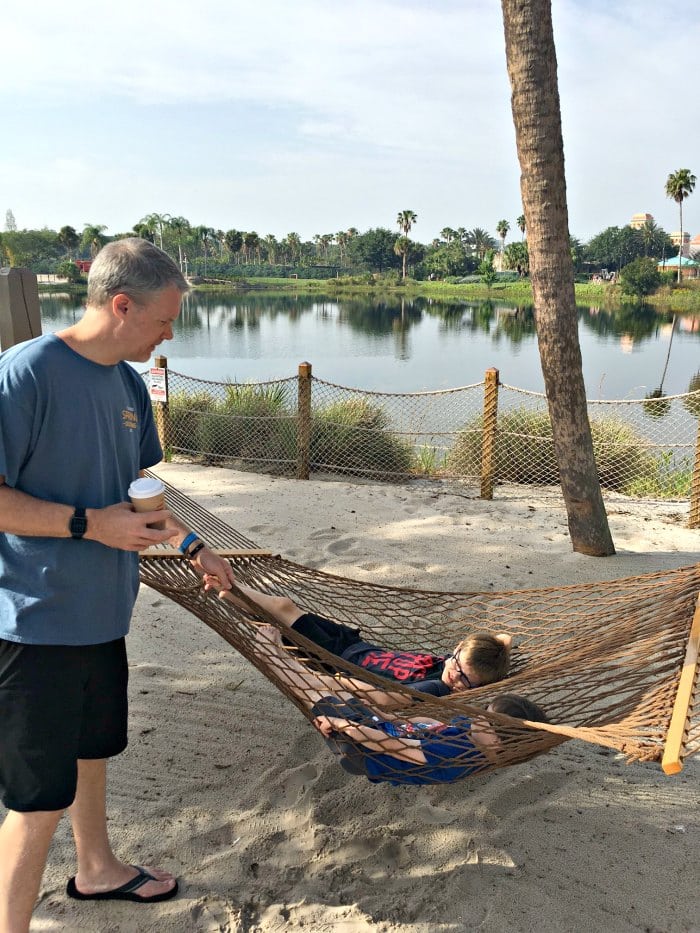 A look at the Old Coronado Springs Resort Rooms
During our stay in the Cabanas, we were in the current rooms. The building right next door to us was in the process of being renovated and it was exciting to guess what the new rooms would look like. The renovations are currently underway so depending on your timing, you could end up in a new or older style room until they are all finished.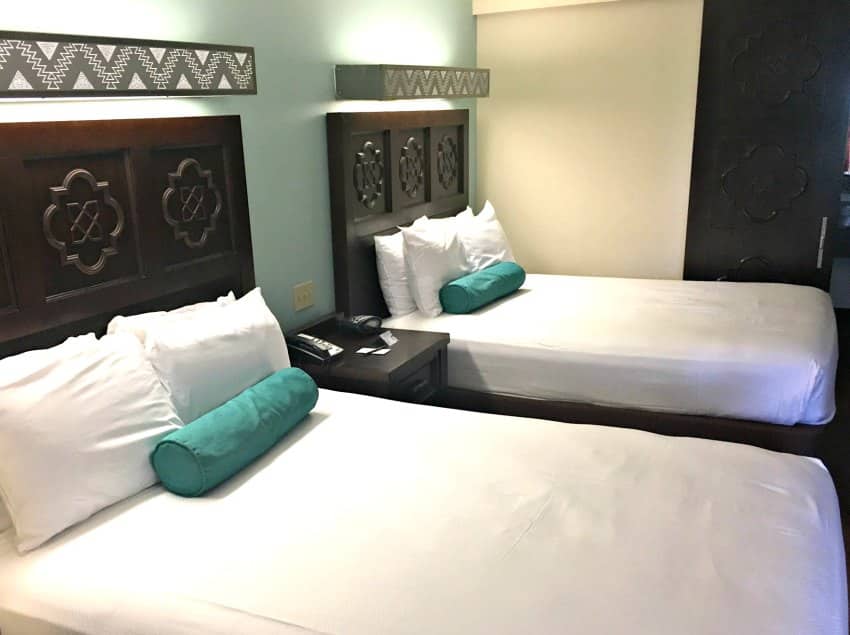 The main thing to notice in my photos is the carpeting and the bathrooms which in my opinion were the most in need of an upgrade. That said, we loved our room and felt it was very clean and well kept. Until we got there anyway!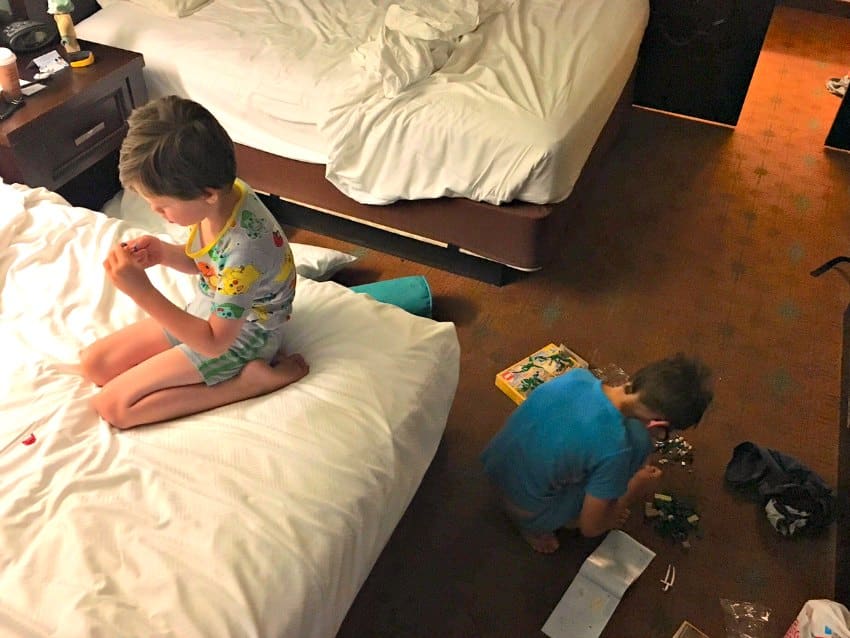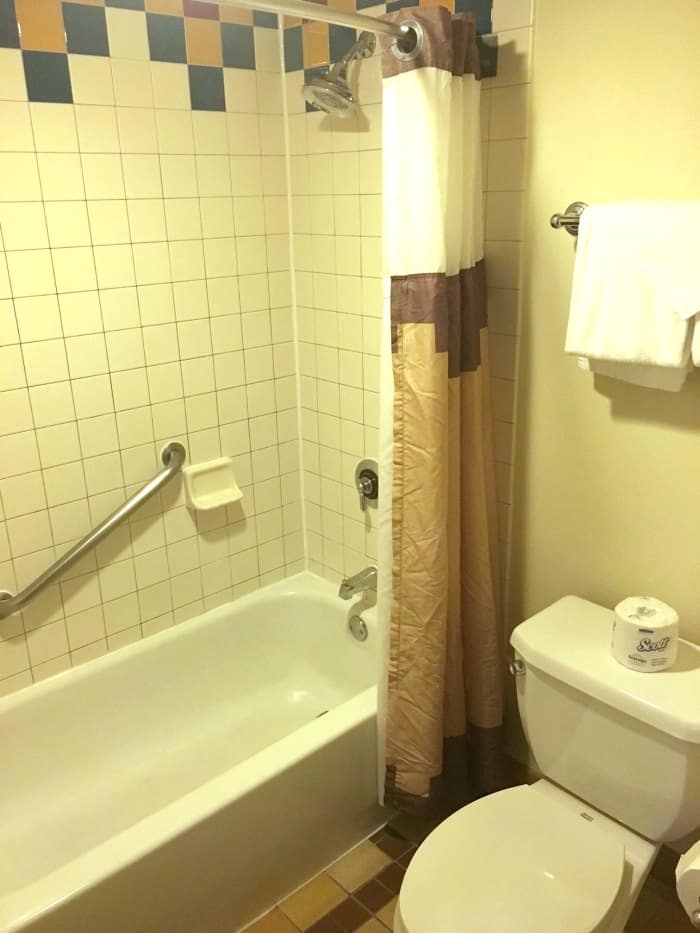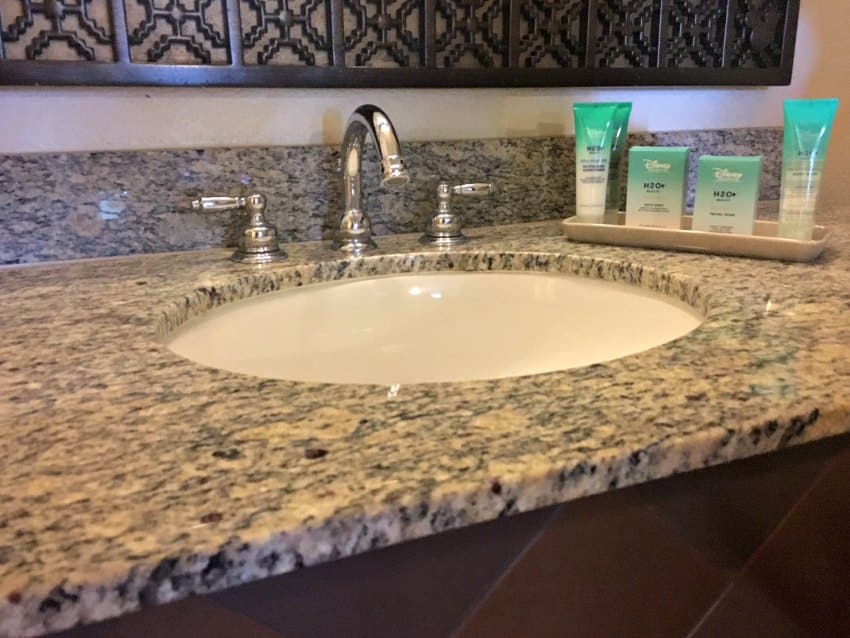 I love the sliding doors to the sink area for added privacy and I'm so happy they kept those in the redesign. I can't wait to check them out!
Thankfully, we don't have to wait because my friend and fellow Disney Parks Moms Panelist, Brandy recently nabbed a new room and took ALL the pics to share with us! Be sure to follow her adventures on Instagram too. You won't be sorry!
Updated Rooms at Disney's Coronado Springs Resort
Right off the bat, I love the Three Caballeros theme throughout the new design. Disney does so well with subtle yet fun theming and I think they nailed it here.
I didn't mention it above, but this resort has a large convention space so it's often used for conferences and business travel. I really think the new rooms are buttoned up enough for work but still fun for the kiddos. And since Donald Duck is my personal favorite, you won't hear any arguments from me on this one!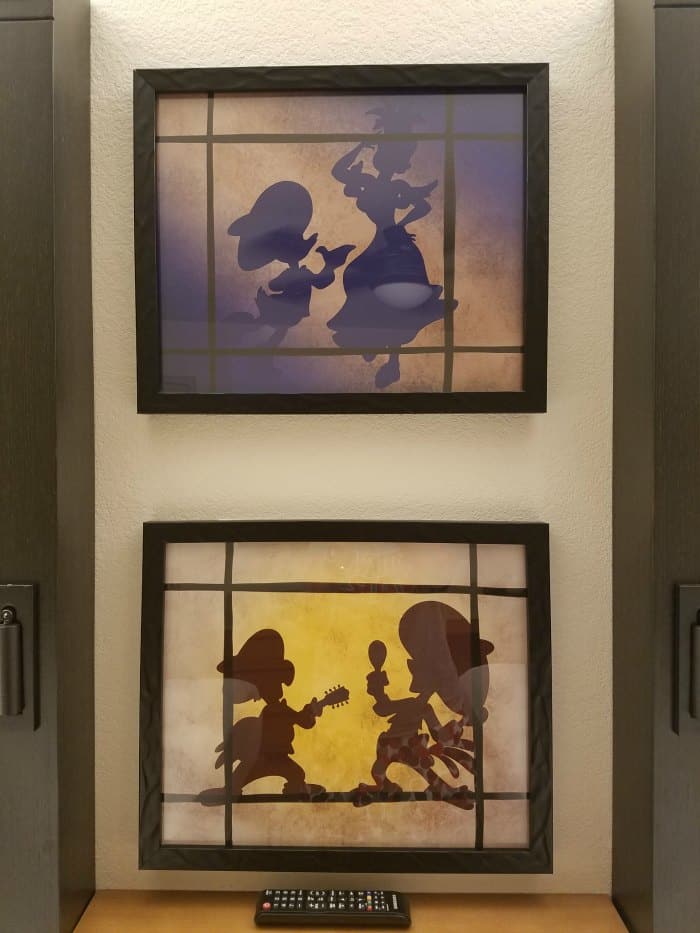 Between the queen-sized beds there are ample outlets for charging devices as well as switches for the overhead lighting and the room phone.
You'll also notice the beds have space under them now, which is great for under bed storage. But make sure to up your room-check game when it's time to check out so you don't leave any lost toys behind!
Oh and speaking of under the beds, no more carpet! I've heard some comments that this seems a little cold but I love it. I think these floors will be much easier to keep clean. Plus, they are definitely more allergy-friendly than carpet.
On a personal note, I know for an absolute fact that I will run into those bed corners at least 50% of the time so I'm making a mental note to be sure the blankets don't flop over the edge when we're walking around. I can already feel the bruises.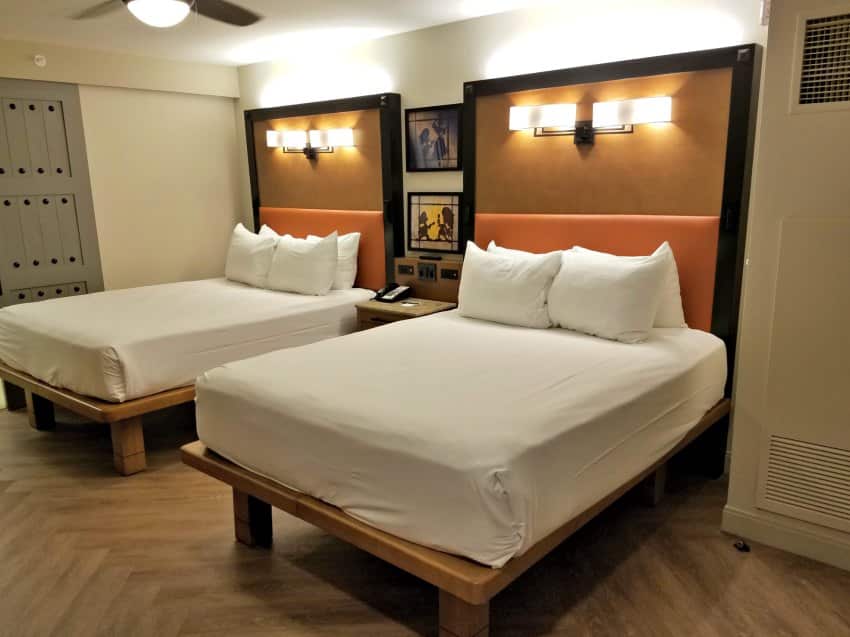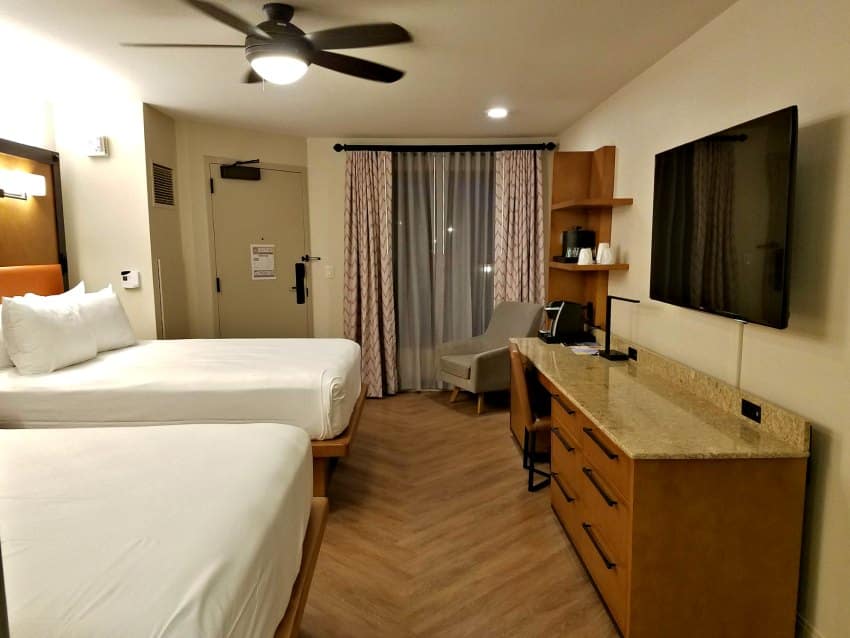 I love the new workspace/dresser/coffee area. Having everything in one place will make it easy to stay organized. My husband and I usually live out of our luggage but I always put the kids' items in drawers so this is plenty of space and much more streamlined.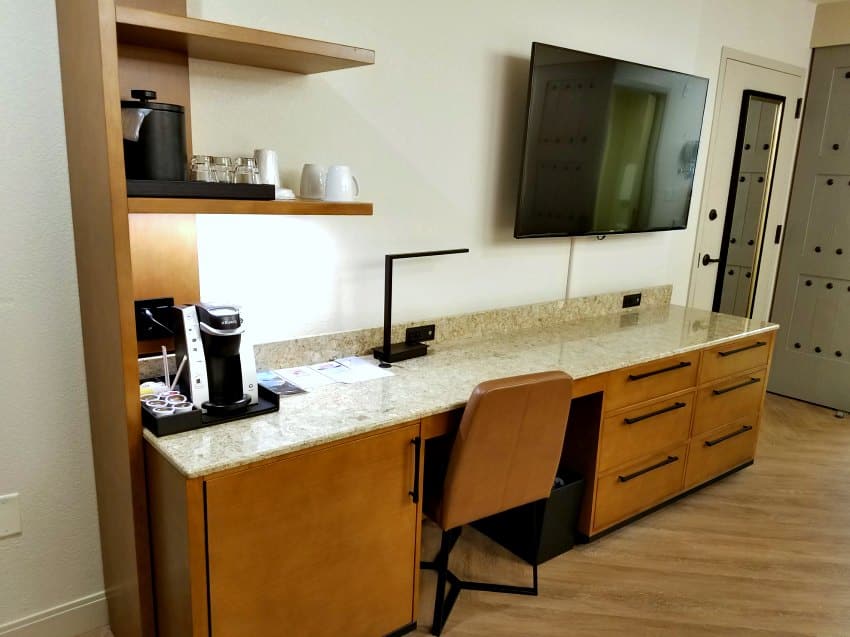 But first…Coffee
Did I mention the new rooms are using Keurigs now? This is a huge step up from the pods in the old machines if you ask me. The Disney brand, Joffrey's is complimentary but if you have a favorite kcup, by all means bring it!
I'm also really digging the transparent door on the fridge. You still have to open the cabinet to see the fridge but if you're wondering if you remembered to put the water bottle in there before a full day in the parks, you can check and save a little energy. But really, it just looks cool so….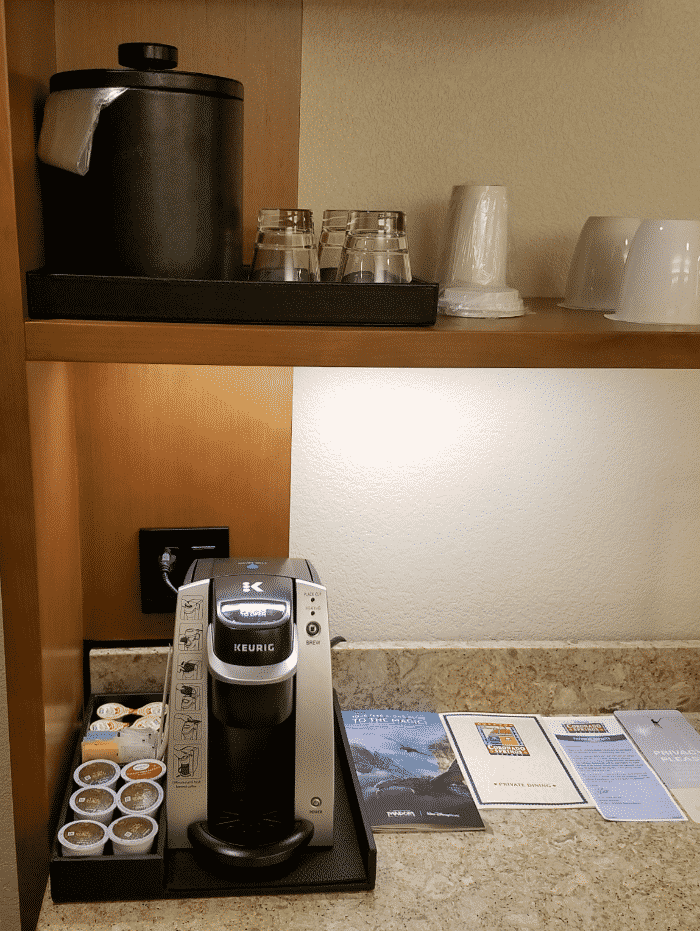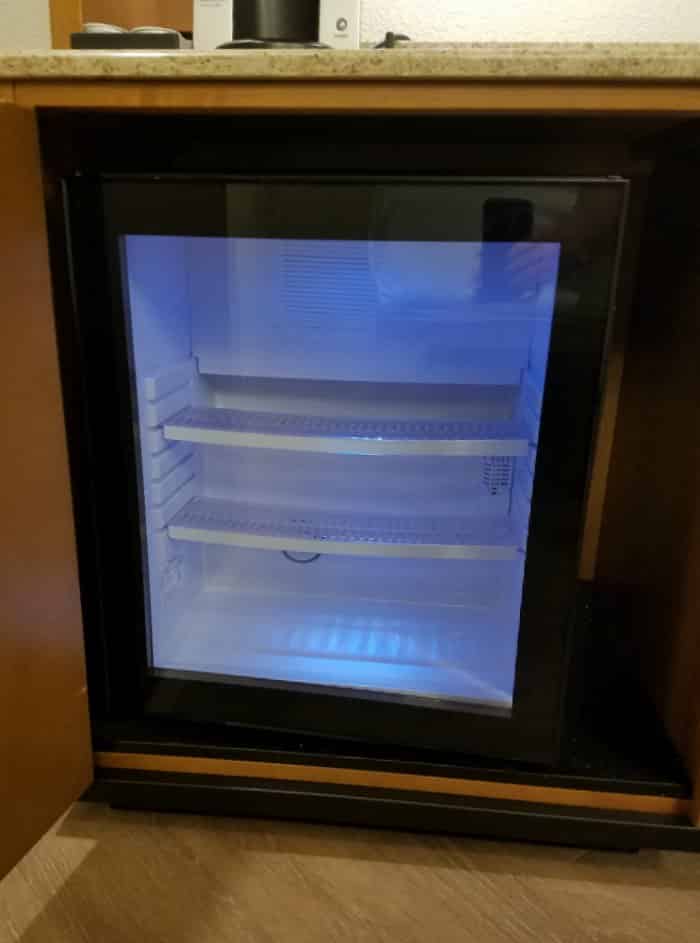 New Bathroom!
I might be most excited about the new bathroom. This is such an upgrade from the old outdated tile in the old rooms and I love the glass door! A+ here from me. It also seems much brighter which is so important in a bathroom and hard to achieve without windows.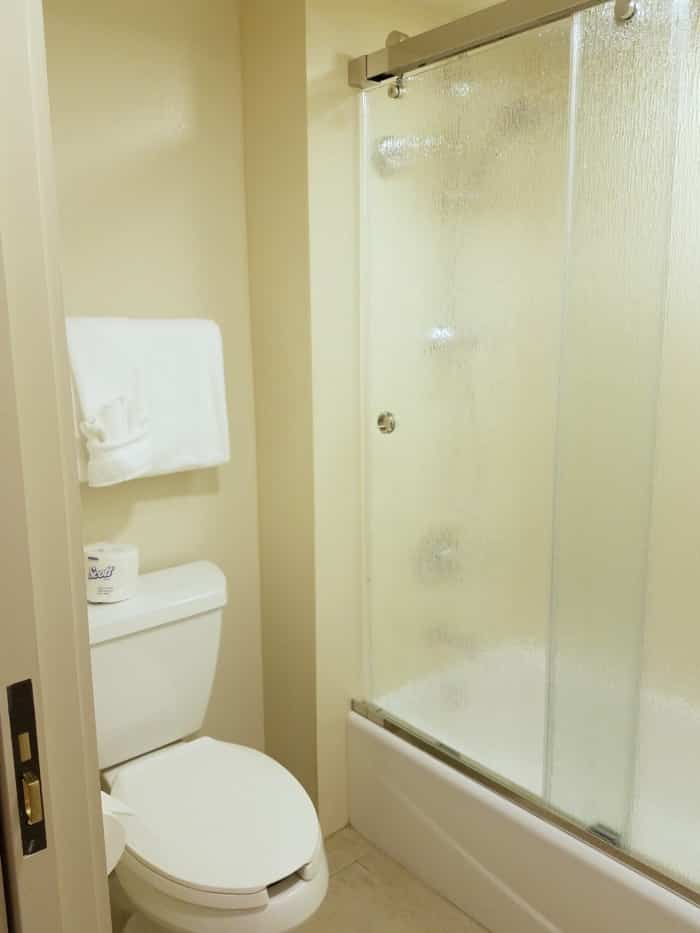 The new sink area also looks really nice and full of storage. I'm not quite sure how deep the counter space is from these pics so if you like to spread out (like we do) you may want to rethink that in favor of a bag you can take in and out of the cabinet below.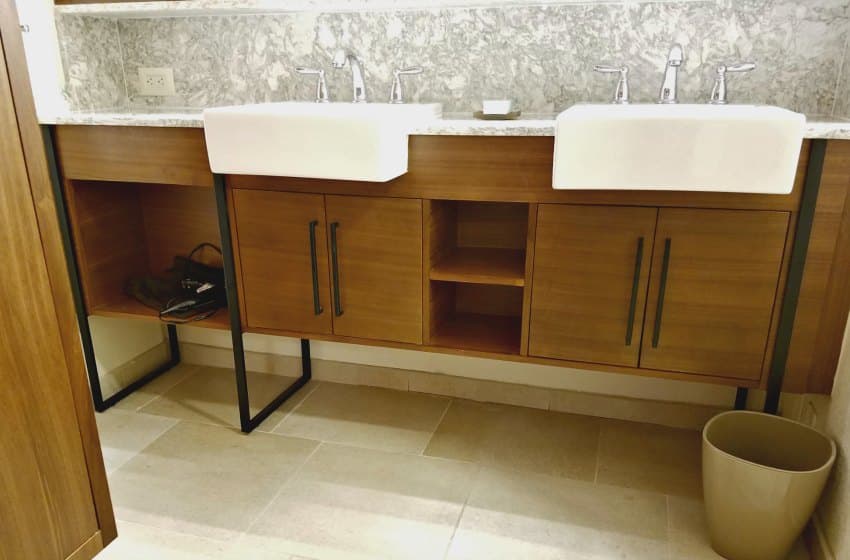 Finally, near the sink area, there is now a standing wardrobe where a closet bar used to be. This is is a nice addition and more compact than before.
I also like that you can close the doors when it starts getting ugly. This would be the perfect spot for our traveling laundry hamper.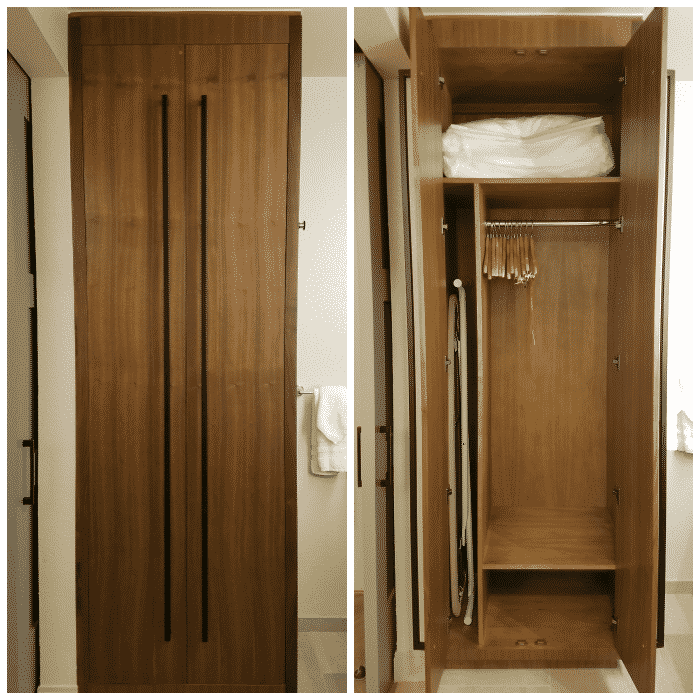 That construction though
While the resort is scheduled to be under renovation for some time, Disney does a great job of keeping the noise down and typically works during the day (between 9-5) while most people are in the parks. The upside is, you may score a great deal on a room like we did and have a blast!
I'm really happy with the way the renovations are coming along at Coronado Springs. I was a late bloomer when it came to loving this resort because I was afraid of the distance from the parks and extra walking. But we really fell in love with it and I know we'll be back.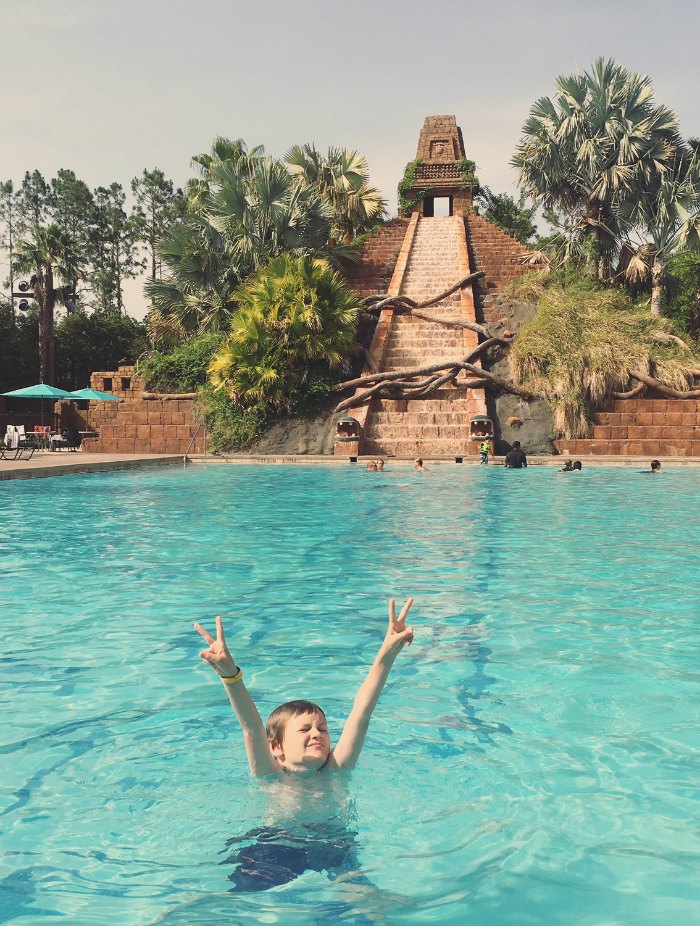 Gran Destino Tower at Disney's Coronado Springs Resort Now Open
New details are emerging on the brand new tower addition at Coronado Springs Resort and they are really exciting! The gorgeous tower adds hundreds of rooms and some family suites, offers amazing fireworks views and a new main entrance to the resort through a 2-story lobby.
New restaurants, bars and a bus stop are also included at Gran Destino Tower. But I know what you really want to see; the rooms!
One of my favorite locals was recently at the grand opening of Gran Destino Tower and has all the news and views. Check out this room tour and let me know what you think!
I really like them! They are very similar to the newer rooms at Coronado Springs, but they seem a little more upscale to me. If you are looking for obvious Disney theming, you won't find it here. There are definitely subtle nods to Walt in the artwork and as always, hidden Mickeys. But you have to look for them!
Will you be staying in the new tower? Reservations are open and you can start booking this Resort now.
Want more Disney? I've got you covered.