5 Reasons Disney's Animal Kingdom Lodge is a Must-Try Resort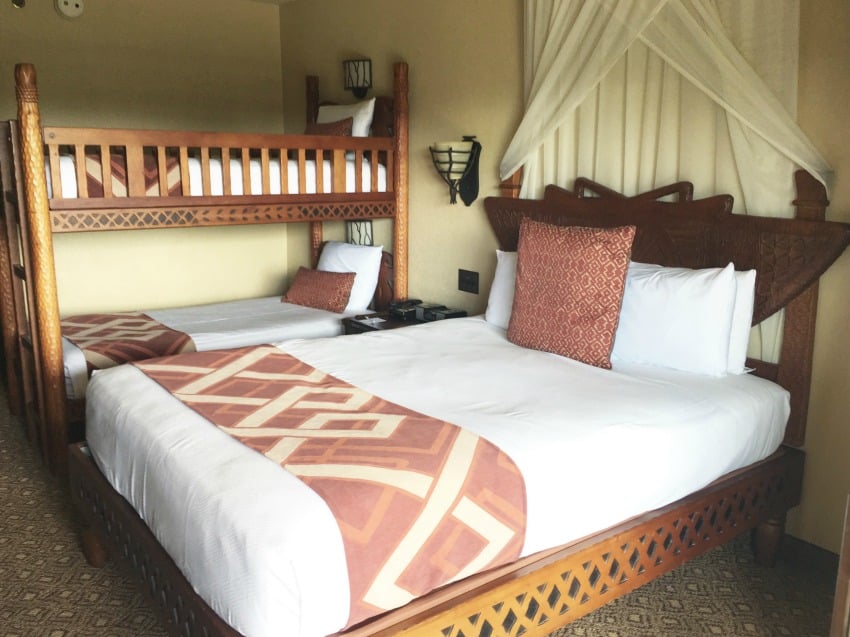 When planning a Walt Disney World Resort vacation, one of the biggest decisions is where to stay. With so many options nearby and on Disney property, choosing a "home base" for your vacation can be overwhelming.
My family has stayed in almost all of the Walt Disney World Resort Properties (and counting) so I decided to share what we loved (and didn't love) about each of them. Hopefully, this will make your decision process a little easier.
On our most recent trip, we stayed at Disney's Animal Kingdom Lodge or AKL, so I'll start there. If you've been to this resort and have more tips to add, please leave them in the comments below!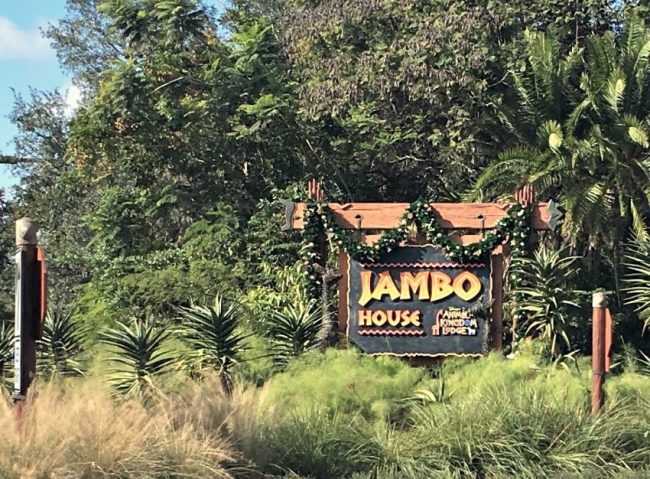 About Disney's Animal Kingdom Lodge
Disney's Animal Kingdom Lodge is a Deluxe Resort and DVC property located next to Disney's Animal Kingdom Theme Park. It's quite large, which is wonderful for the animals and really peaceful for the Guests. Kidani Village, a DVC property is at the far end when entering the resort and Jambo House, with DVC Villas and regular Guest rooms is closer to the entrance.
There are three table service restaurants here and let me tell you, even if you don't stay at this resort, the dining is a worth a drive over! But I'm getting ahead of myself.
5 Reasons to Stay at Disney's Animal Kingdom Lodge
The Atmosphere
One thing Disney excels at is how to make an entrance. Whether I'm walking onto Main Street, U.S.A. for the first time or seeing Spaceship Earth in all its glory, I love how the atmosphere of the parks seem to swallow me up.
Disney's Animal Kingdom Lodge Jambo House does just this. The lobby is simply magnificent and is probably my favorite of all the resorts. We visited during the Christmas season, but it's just as beautiful without the tree. And the smell of the wood burning fireplace in the distance is heaven!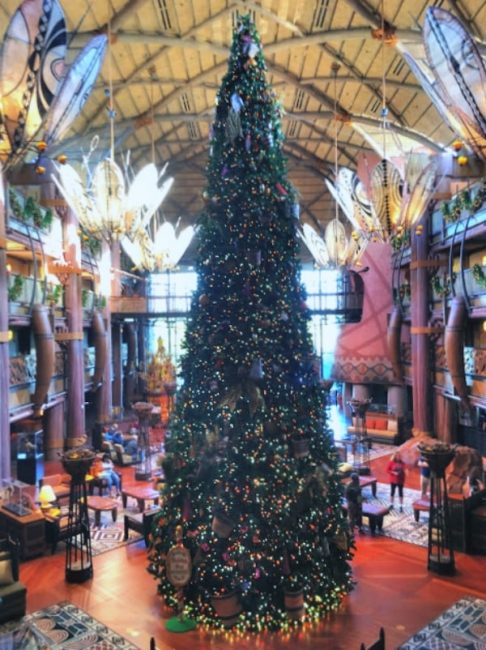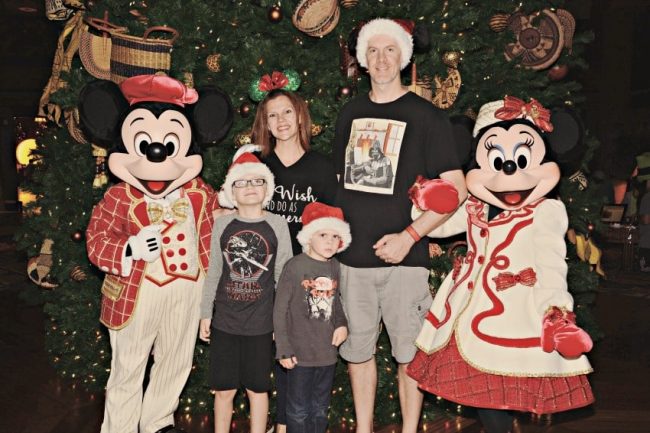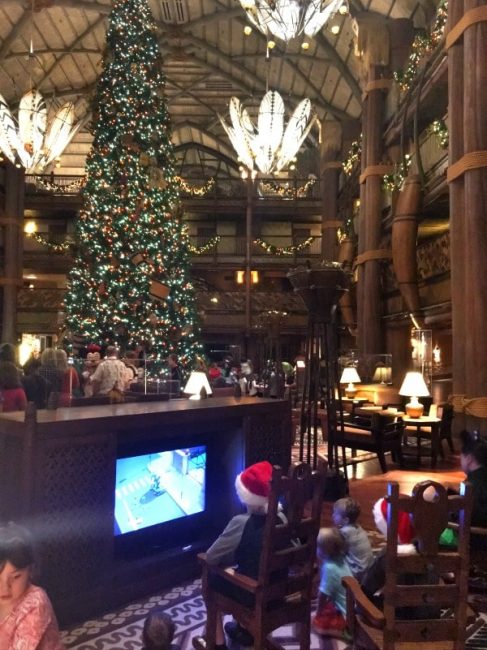 No matter how many parks we visit or activities we plan, our kids can't let a good lobby TV go to waste. All the resort lobbies have televisions, Animal Kingdom Lodge included. Whew! So glad they could catch another episode of PJ Masks before bedtime.
Read: Tips for an Awesome St. Patrick's Day at Walt Disney World
The Animals
One of the main draws of this resort is of course, the animals! Where else can you wake up to zebras and giraffes having their breakfast outside your window?
We loved watching the animals from our Savanna view room, but I found that we weren't always there when they were. We left early in the morning most days and returned after dark so catching a good photo was a bit tricky.
If you are on a budget but still want to enjoy this deluxe resort, consider skipping the Savanna view and save a few bucks. There are plenty of public spaces for viewing the animals and some of them have binoculars!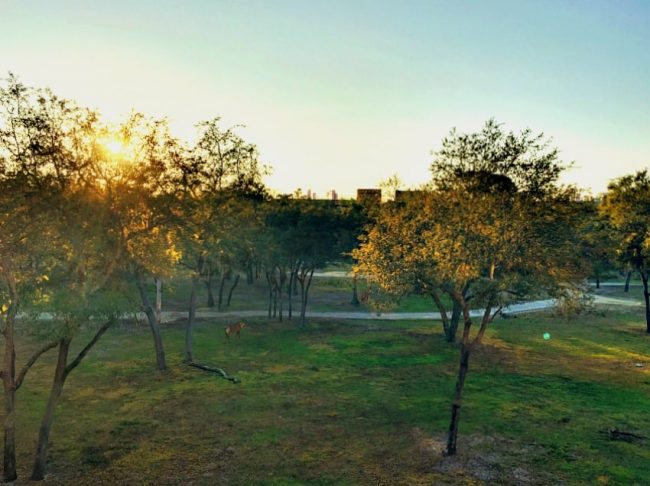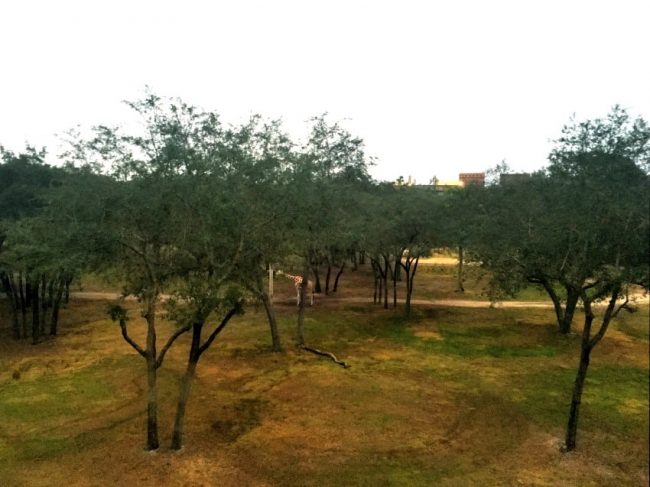 The Restaurants
The dining is top-notch here. Boma – Flavors of Africa, Jiko – The Cooking Place, and The Mara are all located near each other in Jambo House. The Mara offers quick service dining like your classic Mickey waffles for breakfast and Resort Refillable Mugs and of course the must-have zebra dome desserts! We enjoyed everything we ate here and the boys loved adding coins to their collection using the penny press machines.
Boma and Jiko are table service restaurants with excellent food. We love eating breakfast at Boma because of the mix of traditional and African cuisine.
Sanaa is located at Kidani Village, which is just a quick shuttle bus away. Hands down, the best bread service anywhere. I could make a meal of this naan any day of the week.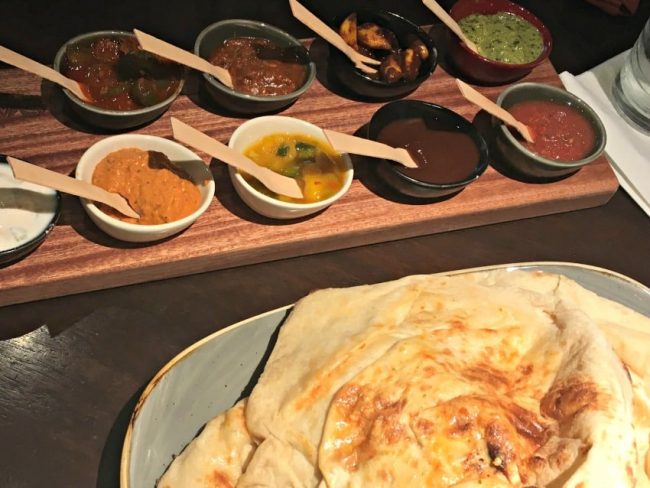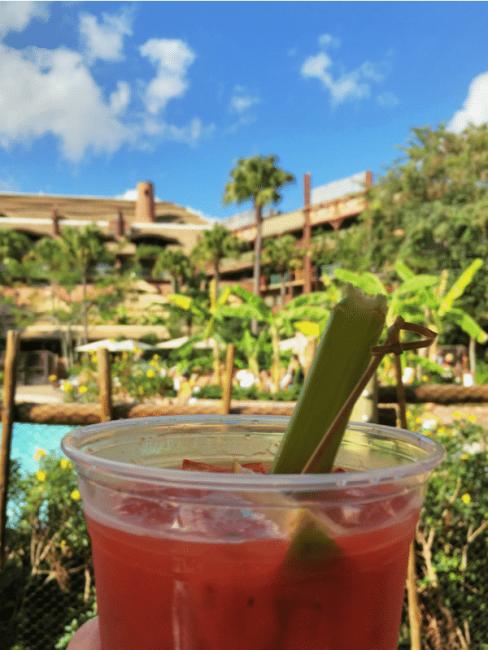 We also found ourselves at the Uzima Springs Pool Bar a few times. The drinks were fantastic and the appetizers hit the spot. Definitely an oasis!
Unique Rooms
We're really not too picky when it comes to rooms, but with a 6'6″ husband and two growing boys, I know space will increasingly be an issue. We are fine in two queen beds, but I loved having the option of bunk beds at this resort. In fact this resort and Disney's Wilderness Lodge are currently the only properties that offer bunk beds so keep that in mind if having them is important to you.
Oscar and Calvin could toss and turn to their hearts content without bothering each other. And by accident when we were looking for a lost toy, we noticed lots of little messages from prior guests written on the wood under the mattress! It was like discovering a time capsule.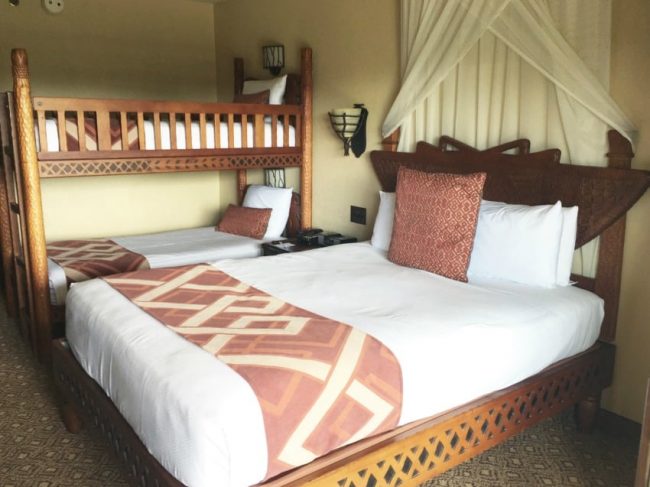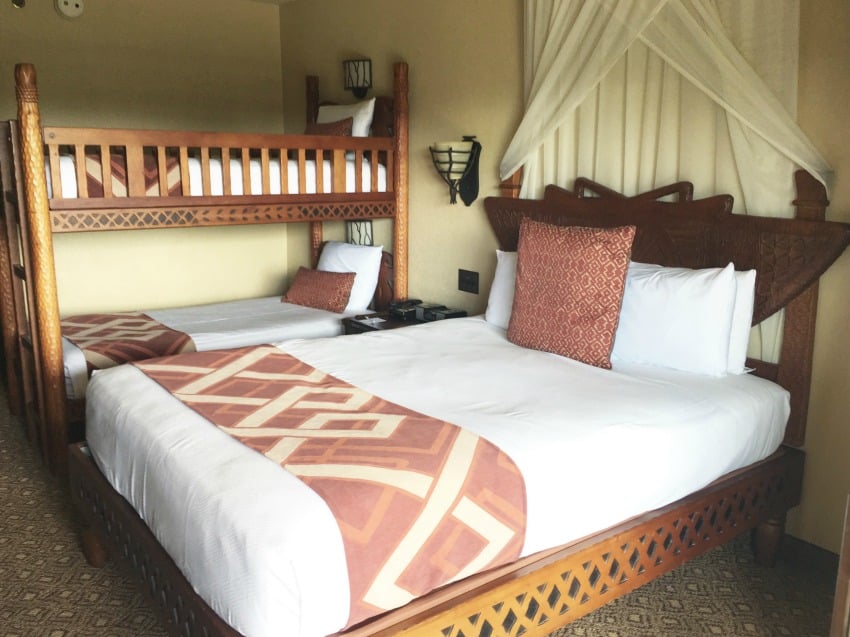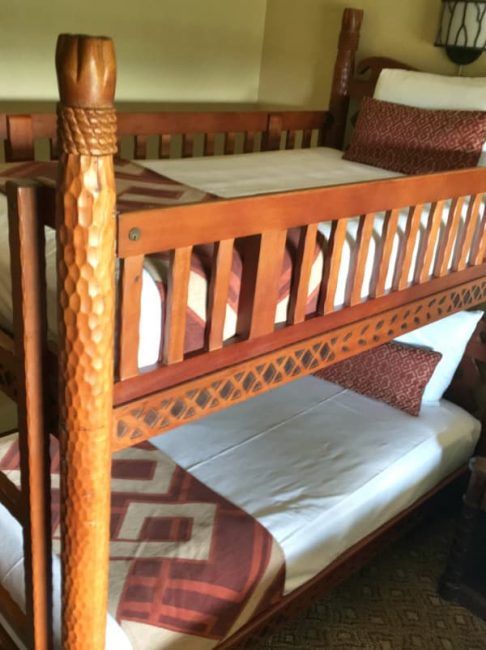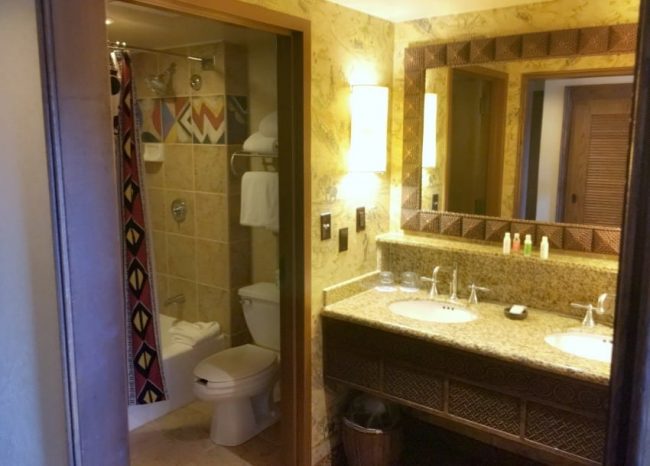 The Fun!
You may use the complimentary visual guide to identify all of the animals on property, enjoy swimming or sliding into the pool, relax in the hot tub or take your kids to Simba's Playhouse and go enjoy the spa! There is also a small playground that is perfect for smaller kids with seemingly endless energy.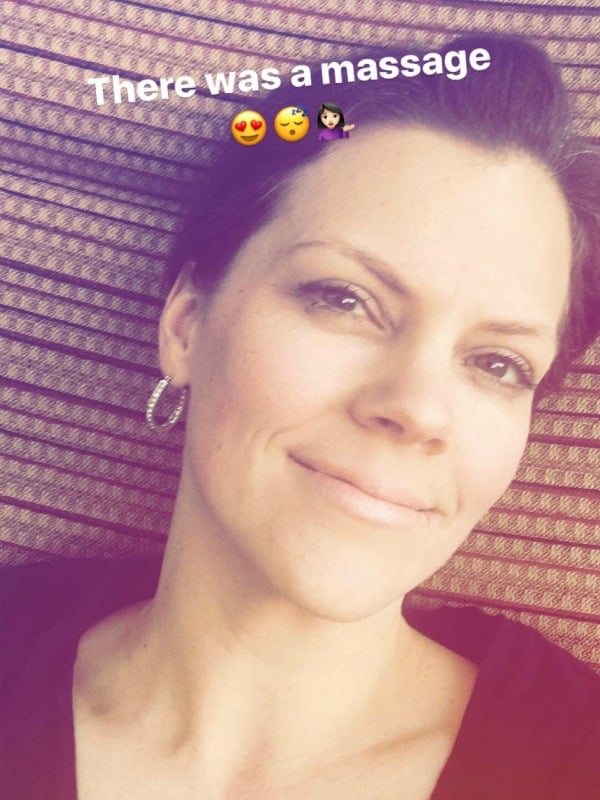 The first part of our trip was unseasonably warm, but the day we had planned to swim it was quite chilly! We did it anyway and that's why the pool is so empty. Everyone enjoyed a nice thaw in the hot tub after our polar bear swim!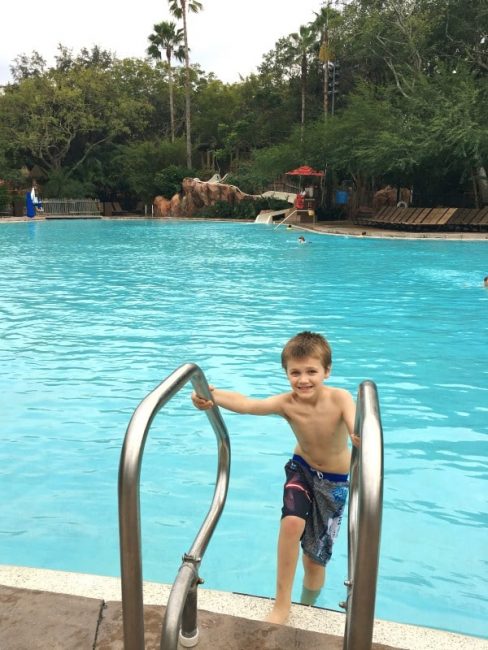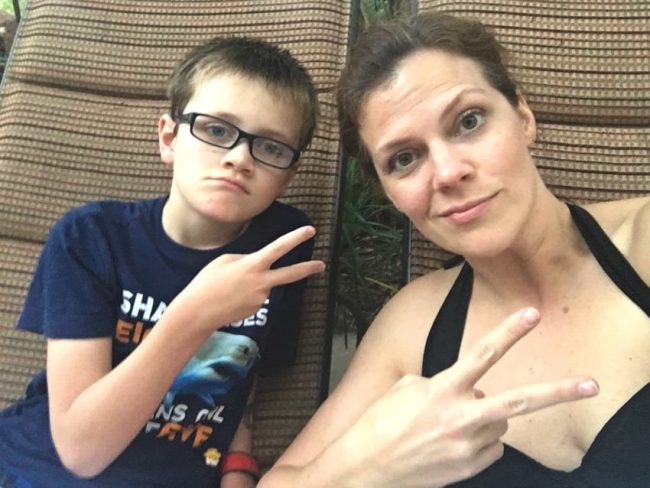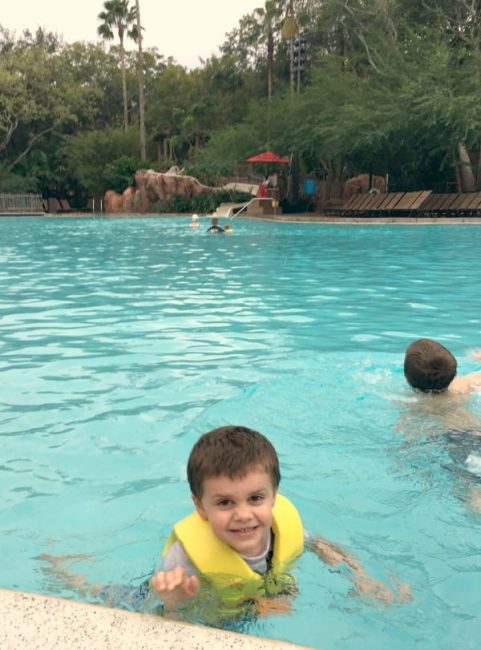 There are two big groups of people when it comes to staying at Disney's Animal Kingdom Lodge. You have your die-hard fans who love the resort or call it their DVC home. Then you have those who think it's too far away from the other three parks and dislike the additional time it can take when using complimentary resort transportation.
Part of the reason it took us so long to stay at this resort was because of the latter. We had a stroller to deal with and spending extra time on a bus sounded a little too hard. I want to mention that because I totally understand that reasoning. If the bus is your only option for getting around and you have very young kids, I definitely wouldn't fault you for staying somewhere closer to the other parks. Now that we only pack our Disney World backpack for the day, it's less of an issue.
Read: DIY Monorail Countdown to Disney Craft
Our circumstances this time were the perfect storm for a completely magical vacation at Disney's Animal Kingdom Lodge. We had our van so we drove everywhere we went with the exception of Disney Springs. We didn't have to deal with a stroller this time and as Resort Guests, parking is free in all of the parks. This worked out so well for us, we now consider driving a luxury! And that's saying a lot because we are big fans of letting Disney do the driving. That said, getting to Disney Springs by bus was easy and actually enjoyable because we hadn't been riding busses all week!
As a deluxe resort, you'll typically pay more per night here than moderate and value resorts, but the rates are usually much lower than the other deluxe resorts. If you are able to travel during the value season, your budget will thank you. Overall, our family loved it here and we would definitely stay again.
For more Disney resort options, check out my reviews of Disney's Coronado Springs Resort, Disney's Yacht Club and the Hilton Orlando Bonnet Creek. There's something for everyone!
What do you love about Disney's Animal Kingdom Lodge? Have you stayed here yet?