What to Bring in Your Disney World Backpack 2023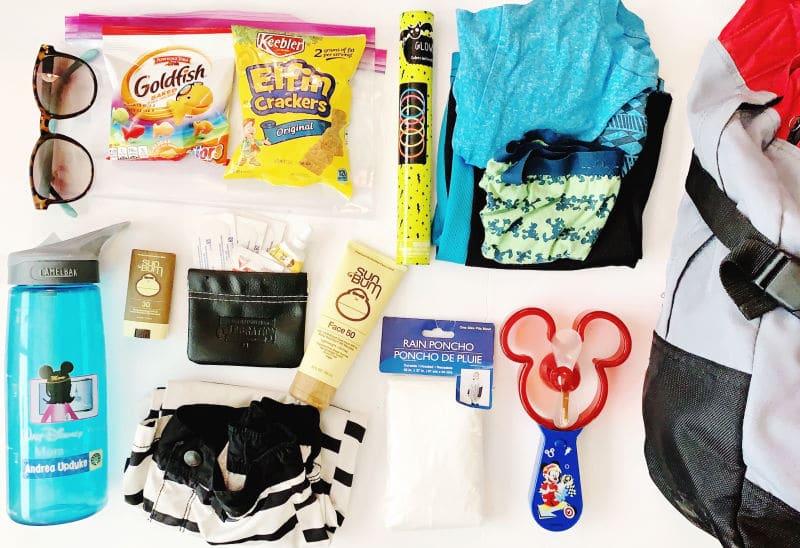 If you want to spend all day at a Disney Park, there are a few things to bring in your Disney World backpack that can make your day much easier. Check out our Disney packing list at the end of this post for parents and be prepared on the go.
Visiting Walt Disney World with kids (or any theme park for that matter) can feel like an overwhelming task.
We've been taking our boys since they were babies and each time we go they are a little older and our needs change.
There are some things I always recommend bringing into the parks with young kids and today I am sharing our top essentials to bring in your Disney World backpack when traveling with young kids.
Aside from the obvious needs like diapers and wipes or your phone and a charger, I keep a running list of items to keep on hand that don't take up too much space, but save a lot of hassle.
Updated from 2014. This post contains affiliate links which means I may earn money if purchases are made using my links.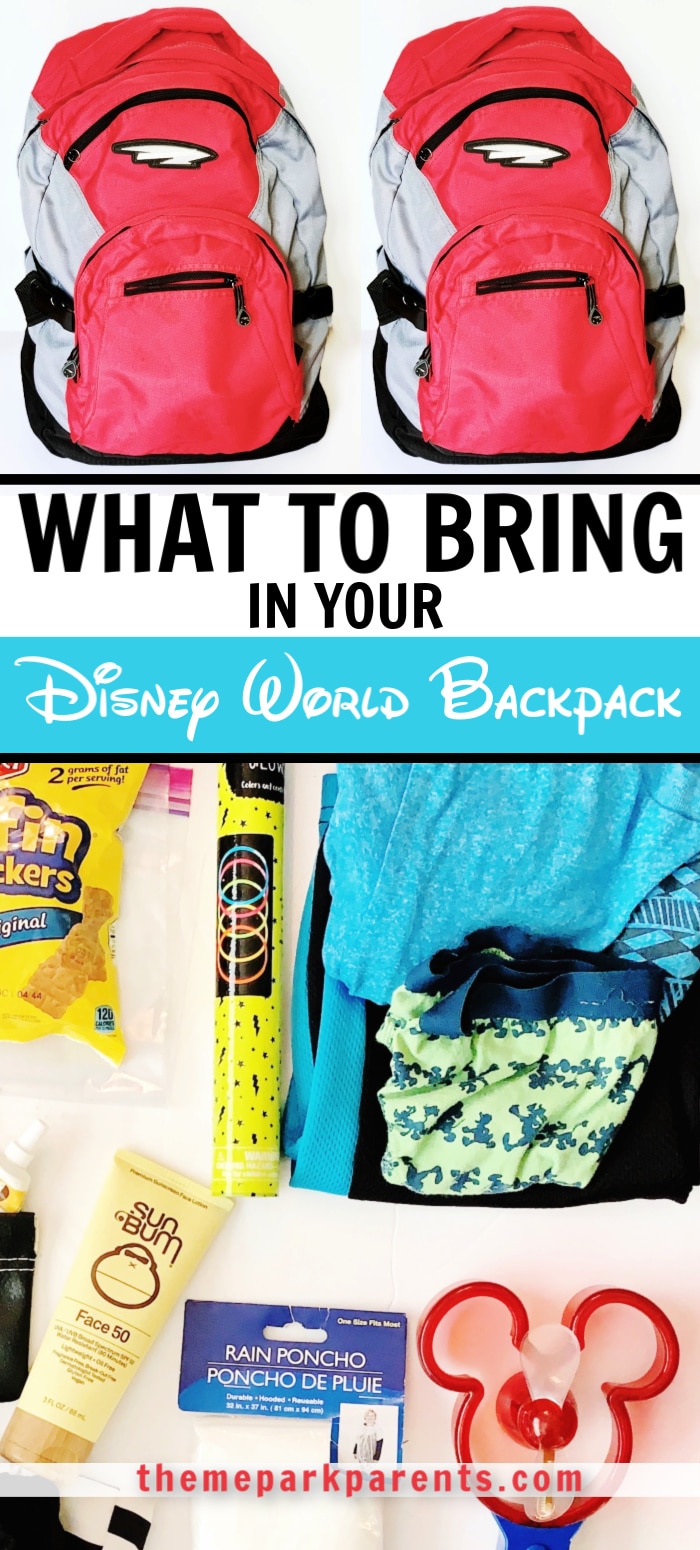 What to Pack in Your Disney World Backpack for Kids
We love to spend a lot of our days touring Disney Parks so for us it's better to be prepared than get stuck needing something we could have brought with us.
A little bit of planning ahead saves time and money and lets me focus on having fun with my family.
When you have young kids, gone are the days when you can stroll into the park with nothing but your wallet and your phone. You don't need much, but bringing a backpack with a few key items will make your park days much easier.
But before we get to backpacks, a word on strollers.
I always recommend using a stroller for as long as possible, even if your kids don't use them at home.
Walking at Disney is hard on every age and you will all be happier if your little ones have a spot to rest when they need it.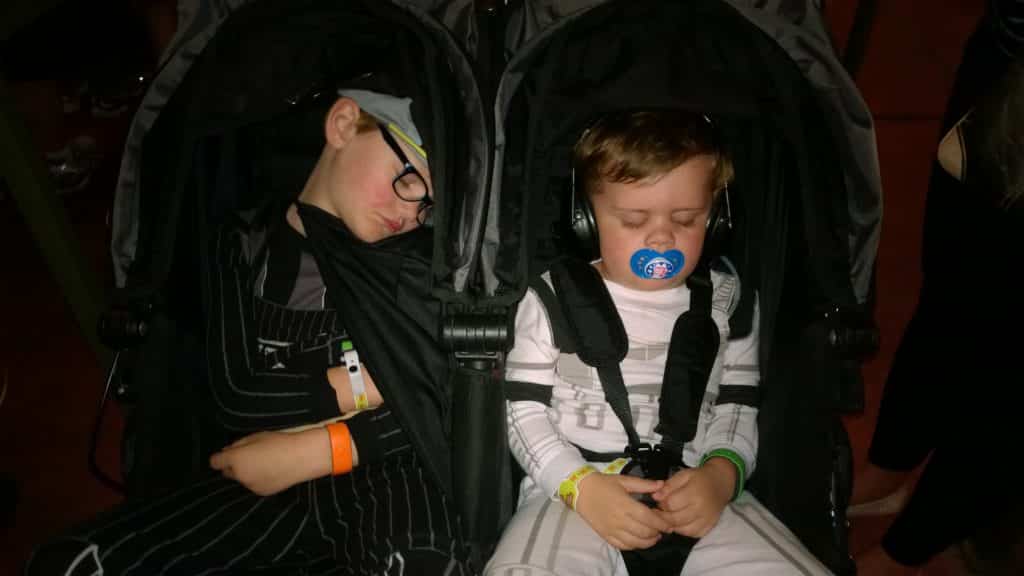 Once we stopped using them at home, we simply rented a stroller for vacation.
If you want to do this, we've had great experiences with Kingdom Strollers, who will drop off and pick up right at your Disney hotel.
Of course renting by the day inside a Disney Park is always an option, but these strollers are hard plastic and don't typically provide as much shade in our experience.
Parent hack! Having a stroller can be exceptionally helpful when you want to stop at the hotel bar on your way back to the room or campsite at Fort Wilderness. I'm just saying. It's your vacation too!
Grab a sipper and let them sleep.
This was a much needed break at Disney's Yacht Club Resort after a long day. So fun!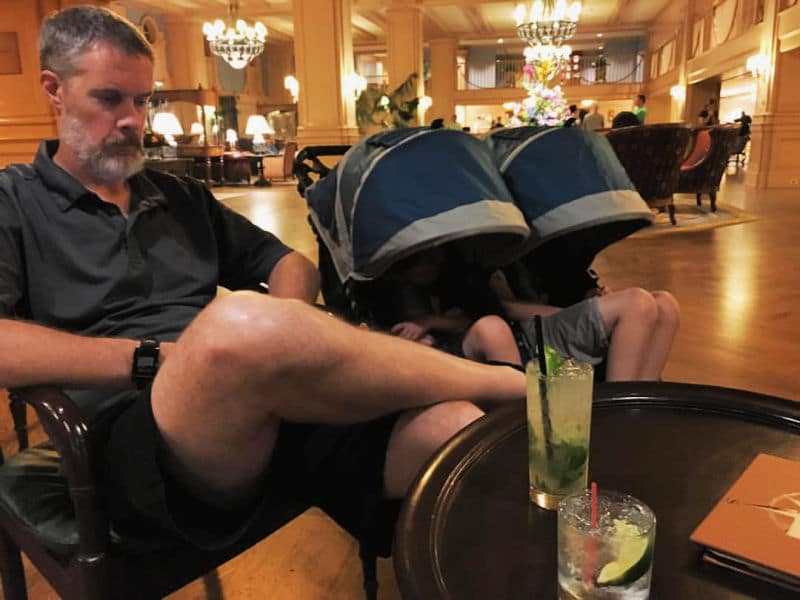 Disney World Backpack Essentials for Parents
Here's our list of essentials and a little context for why we think you shouldn't skip anything on this list.
Yes, you can pretty much buy anything in the park if you need it, but why not be prepared? Here are my top tips for filling your Disney World backpack each day.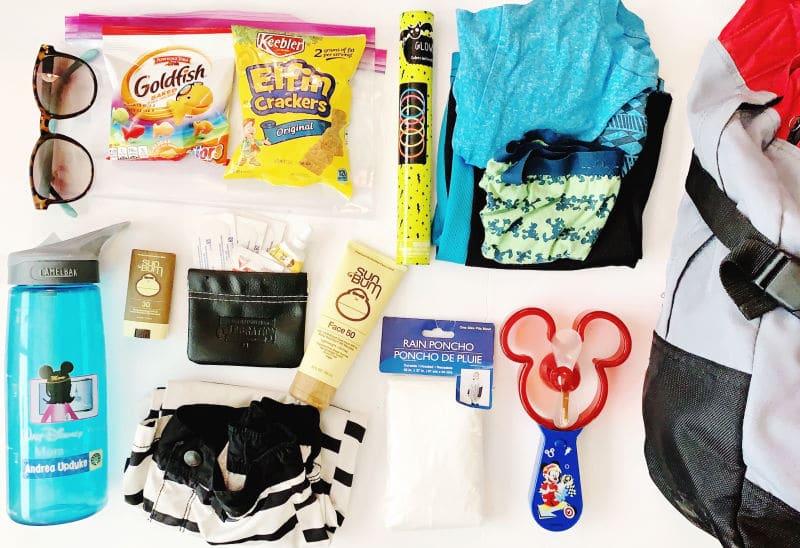 Reusable Water Bottles
Cups of ice water are free at all quick service dining locations in the Disney Parks so all you need to bring are a couple of reusable water bottles.

In the past, we've packed a small cooler with bottles of water but if that's the only reason you're bringing a cooler, it's not necessary.
Bring your bottles full of water when you arrive and then refill them throughout the day whenever you need to.
Snacks that Won't Melt
Be mindful of the snacks you bring when packing for the parks. Whether you are in Florida or California, the sun gets hot and the last thing you want is a soggy bag of chocolate.
Snacks that are easy to eat while walking are also a safe bet.
We love individual bags of cheese crackers, applesauce pouches, fruit leather, pretzels and cereal bars to keep on hand.
Heading to Disneyland? Read: My Top 5 Disneyland Tips for Walt Disney World Regulars
For an in-park treat that is also budget friendly, we usually buy a refillable popcorn bucket at the beginning of our trip.
You can refill it in any park during your whole stay for just a few dollars and popcorn is great for sharing, which is also nice for the budget!
Gallon Size Zipper Bags
Throw a few zipper bags in for "just in case" things. If your little one has an accident or you want to protect your phones on water rides, it's always nice to be prepared.
Plus, they weigh nothing and take up very little space so this one is an easy yes for us.
Sunscreen
We always bring a large tube or can of sunscreen as well as a face stick so we can reapply throughout the day.
You don't want to skip things like ears and noses and standing in line is a great time to swipe the stick on your face.
Plus, your hands don't get all gooey.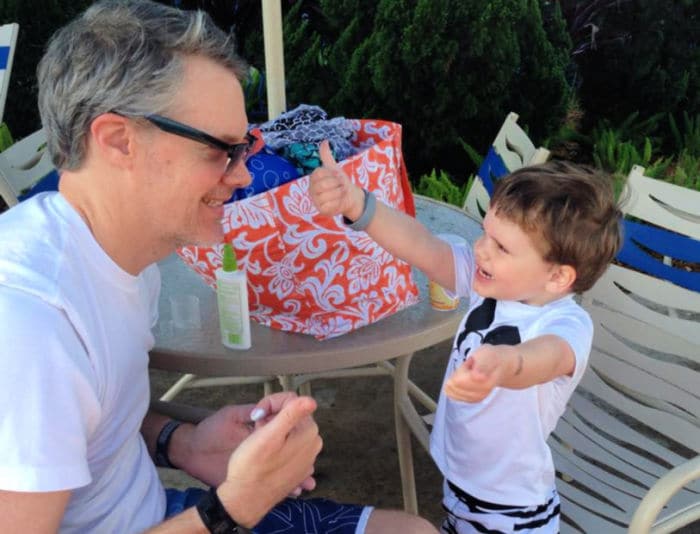 Our current favorite products are from Sun Bum. They have a cream, spray and face stick. It feels great and doesn't get super sticky or irritate our skin.
Of course you'll want this at the hotel pool too so it's great to have with you no matter where you are, whether it's Magic Kingdom or Coronado Springs Resort (love that pool)!
First-Aid Kit
You don't need a rolling hospital here but having a few things like antibiotic ointment, bandaids and maybe some Ibuprofen (ok that's for you) can be really helpful for minor issues.
Each park has both Baby Care Centers and First-Aid but if you don't need much this will save you a trip, which can be super helpful when you happen to be at the opposite end of the park and all you need is a band-aid.
TIP: Even if your kids are out of diapers, it's a good idea to have some diaper cream on hand in case anyone has an unfortunate case of chafing.
Stroller Fan
We always used a stroller when the boys were younger and it was a sad day when they outgrew it! Not only do your kids get a much needed rest throughout the day, it's a great place to put the backpack.
Trust me. This doesn't have to be you. Keep that stroller as long as you can!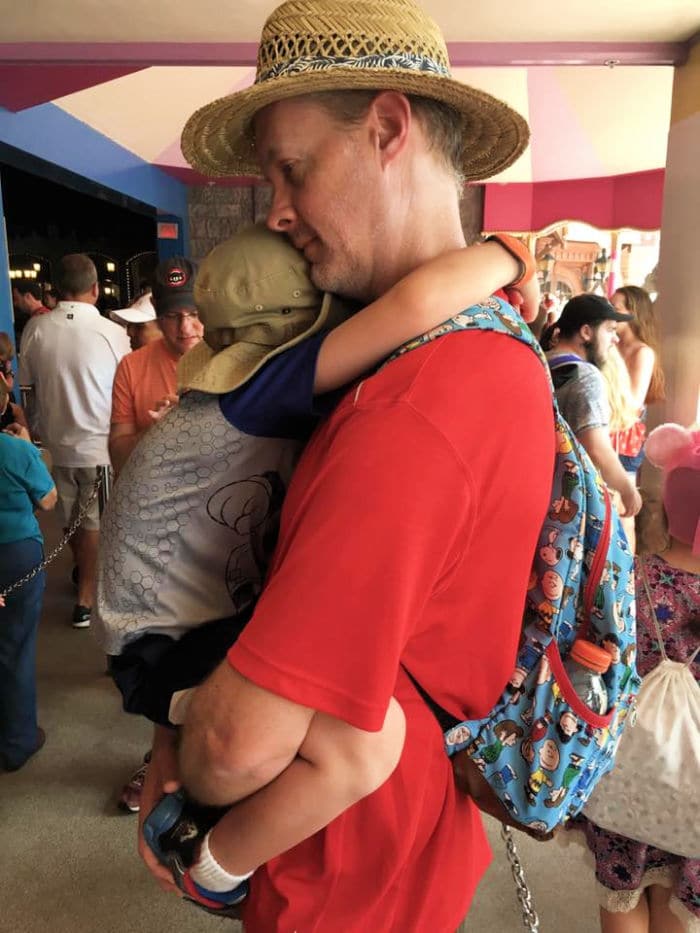 A word of warning though, strollers get really hot in the sun and we found that having a small clip-on stroller fan helped immensely.
This is especially true when you have babies who don't really know how to move around and get more comfortable.
Ponchos
Ponchos are a must-have on a Disney World vacation. You never know when a Florida storm will blow through.
Plenty of people will scatter in the rain and we've made some of our best memories sticking it out and tromping around in our ponchos.
Also, if you really have a lot of rain in the forecast, I recommend quick-drying shoes like Crocs or Oofos so you aren't stuck in soggy socks.
Check out my post on the best shoes for standing and walking to see my suggestions for everyone in the family.
And here's a tip for the moms; if you find yourself caught in the rain with your hair down, make sure you have some hair ties with you or you may end up with a princess bow like I did.
When at Disney amirite??
Here are a few ideas for what to wear to Disney World that I pretty much live by.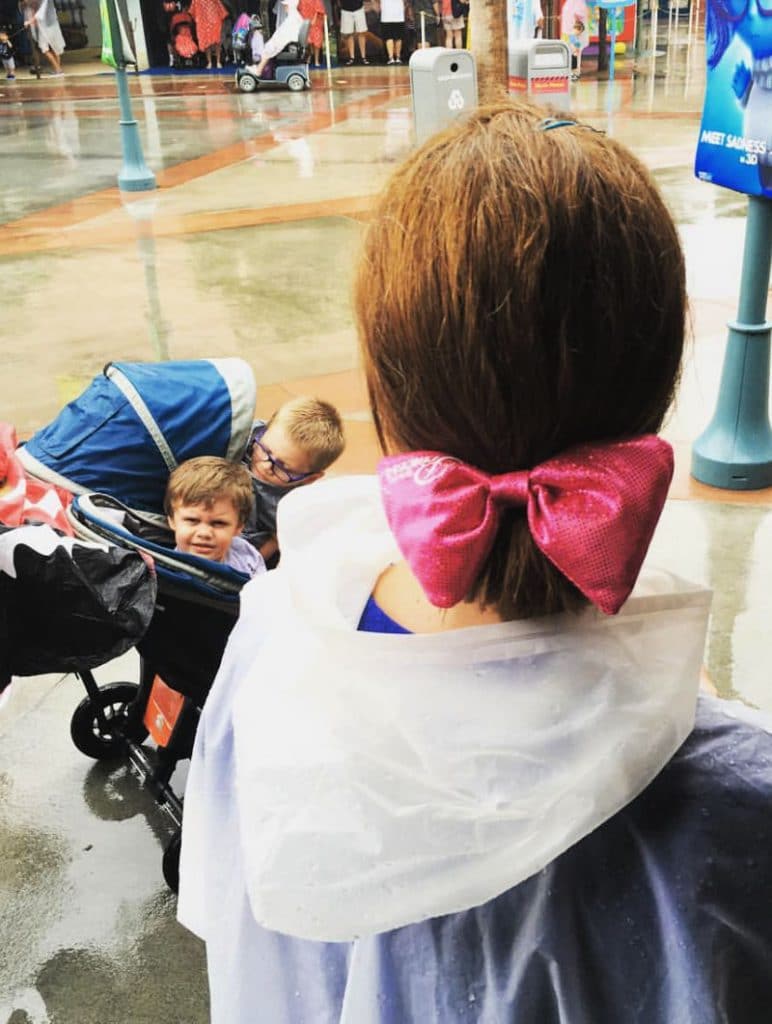 Kids' Swimsuits
If you plan to make use of the splash areas in the park, like Casey Jr. Splash 'N' Soak Station, you may want to bring a swimsuit so your kiddo can do a quick change after playing.
This was a great option for us when our boys were small. And this is another great use for those plastic bags you packed.
Look how prepared you are!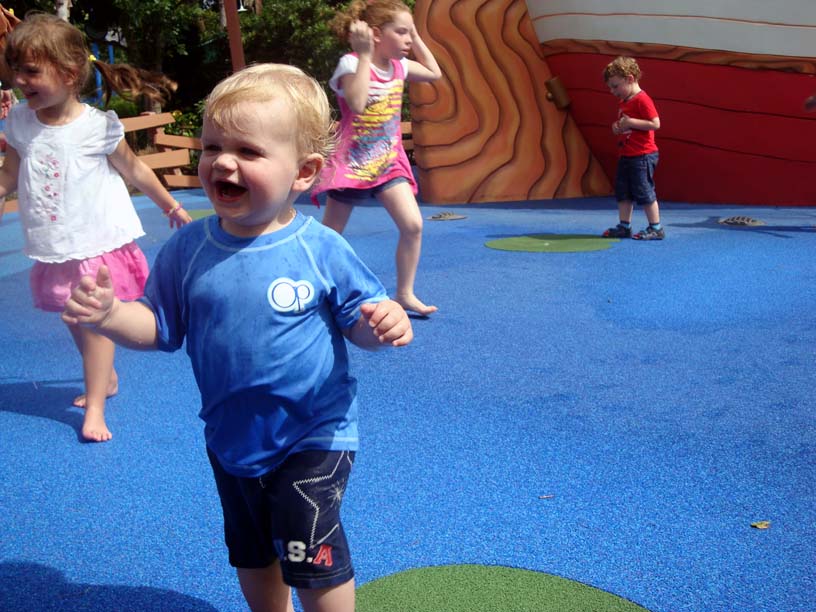 Change of Clothes
This one goes without saying if your babies are prone to diaper blowouts or you are potty training a toddler. Honestly, we still bring a change of clothes for our youngest because you just never know.
In fact, both of my children had accidents while standing in line for The Many Adventures of Winnie the Pooh (years apart). Coincidence or subliminal messaging? You decide.
You may also want to throw in a shirt for yourself in case you happen to be holding the child during said accident. Ask me how I know.
If you're feeling crafty, check out the matching Disney family shirts we made for a recent visit and see how to make your own.
Light Up Toys or Glow Sticks
I'm going to be straight with you here. Disney does a fantastic job of placing balloons, bubbles, and sparkly shiny things right at a child's eye level.
A good part of your day might be spent saying no, not right now, or maybe later, or ok fine as you hand over $30.
We have a couple toys from the parks that we reuse when we go and that's a great option if you plan to visit frequently.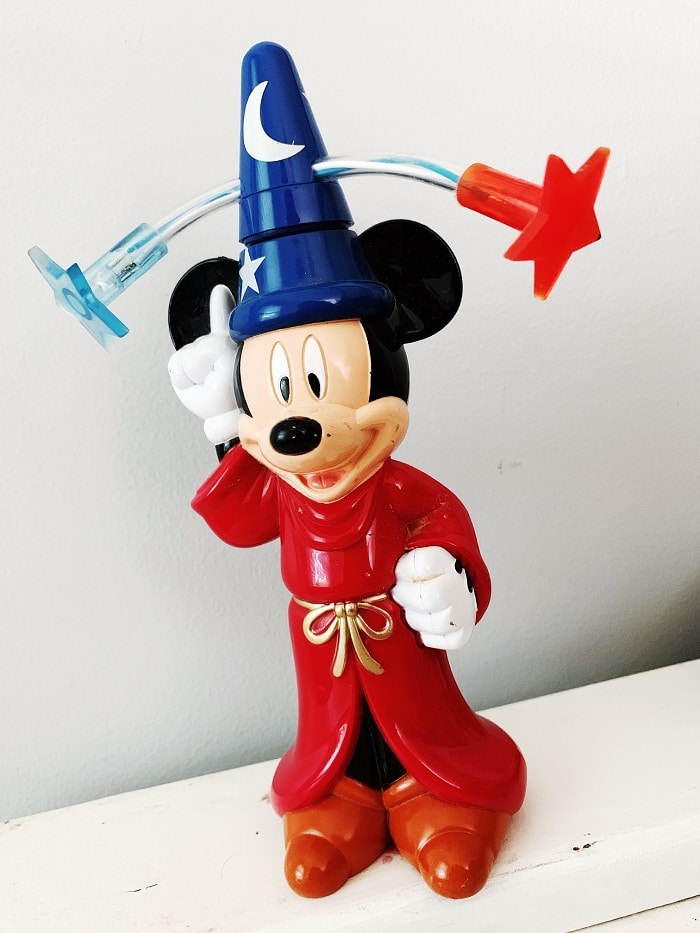 Or, you could hit Target or Walgreens or the Dollar Store before your trip and come prepared with glow bracelets, light-up wands, bubbles and stickers.
In fact, you can even get Disney themed items most of the time at a fraction of the cost.
I love this idea because you get to skip the line and still be the hero. When I have done this, my kids didn't even know I had these things in my backpack. I just waited til they asked and surprised them.
Works every time. Just remember to bring extra batteries!
Read: My Top 5 Tips for Planning Your First Toy Story Land Visit
Free Disney World Backpack Packing List Printable
While I believe it's important to be prepared, you really don't have to bring much in your Disney day bag.
I created a printable checklist to get you started and left some spaces so you can add your own personal items if needed.
Print out this list or screenshot it so you can be sure you have everything you need for a magical day in the parks!